Kelsey Bender Receives Sanford Award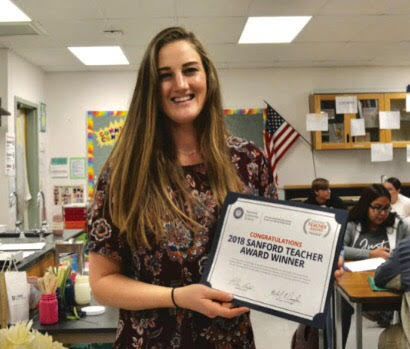 Kelsey Bender, Blackfoot High Schools Professional Technical Education
Agriculture teacher, has been awarded Idaho's 2018 Sanford award.
The Sanford awards come from the Sanford programs. The awards started, because they wanted to reward teachers around the country that inspire students.
"I can tell Mrs. Bender really cares about her students and is definitely very invested in them as a person. I like her approach in teaching," Ady Wixom (12) said.
Every year 51 teachers, one out of every U.S. state, are chosen as a Sanford winner. Teachers are nominated by their colleagues and voted on by a committee of educators.
Nominations were closed on November 1, 2018 and all winners of the award were invited to attend a special celebration in their honor.
"She's funny, likes to get work done, and sensitive. She's better than most science teachers; She knows what she's talking about. I really like how she gets into everything she teaches, she's just a great teacher overall," Jade Velasquez (12) said.
Bender will be awarded a $10,000 grant for winning the award.
It was no surprise to students when Bender received the award, because she is a greatly admired teacher.
"She's always really nice to me and whenever I'm having a rough time in advisory she makes sure I'm okay," Ashley Trappet (12).