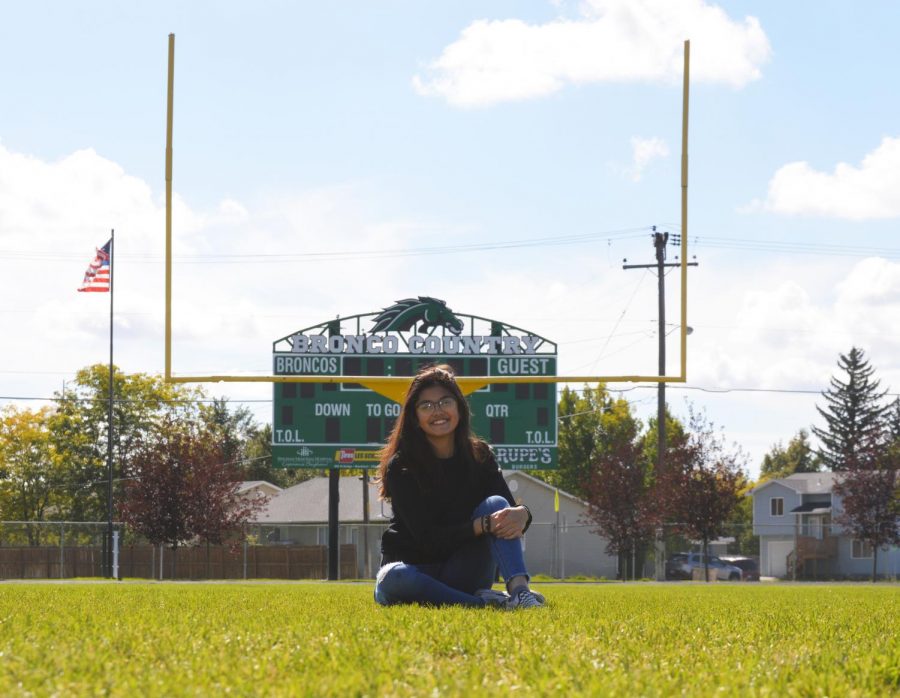 There are a couple things Ziraily Pelayo would want you to know before the details of her life are released to your knowledge. (1) How to pronounce her name: Zih-ray-lee Peh-lie-oh. (2) Her arms are open to those who come to her for emotional support. Once acquainted, she will be willing to lend a shoulder to cry on. (3) She can be a pain in the backside, a tendency that everyone has from time to time. 
Ziraily's birthday is September 7, 2002, meaning she is 17 years old and is starting her junior year at BHS. As a junior, her favorite thing about BHS are the teachers and how understanding they are. Her favorite classes have been newspaper, any class taught by Mrs. Bynum, and Mrs. Stevenson's math class. The lack of funding towards extracurricular activities and construction of new classrooms for the expanding student body concerns Ziraily, however.
Her favorite colors are yellow and navy blue, but she prefers yellow. When she's in the mood for sweets, her go-to snacks are candy, chocolate, ice cream, and cookies. Her favorite food overall, however, is pozole. She loves shoes, and has lots of them. Winger's is her favorite sit-down restaurant and Chick-fil-a is her favorite fast-food restaurant. Her favorite fictional character is Blue from Jurassic World. Every year, she and her family visit Hidalgo, Mexico, which is her favorite place to vacation. 
Speaking of family, Ziraily's family hold traditions every year, although not many because of their spontaneous tendencies. A birthday in the family is celebrated by singing Las Mañanitas and eating cake at their grandpa's house. On the 4th of July, Ziraily's family from California and Montana come down to light fireworks at their grandpa's house. Grandpa's house is also the location of celebration for Thanksgiving, where her dad cooks ham as an alternative to turkey and late-night giggles and conversations are shared within the family. 
With the completion of her high school years approaching, the future has been a fresh thought in her mind. She plans to attend the University of Pennsylvania in order to pursue her dream job of a nurse or an anaesthetist. Aside from acquiring her dream job, she also wants to own a home, raise a family, and be able to support her family and parents.
Although success is something that she strives for, she also stays grounded in her values, which are honesty, kindness, and self-love. Ziraily Pelayo's values reflect in the way she lives her life: speaking and acting honestly, being kind to everyone, and loving yourself above all else. 
Ziraily Pelayo, Editor-In-Chief
Jan 08, 2020

The goofy, caring Ryan Hudson

(Story)

Jan 08, 2020
Oct 19, 2019

Homecoming dress-up week

(Story)

Feb 07, 2019

Blackfoot High School recognizes senior girls

(Story)

Feb 01, 2019

Bronco boys put up a hard fight against Bees

(Story)

Jan 09, 2019

Blackfoot High School charity auction

(Story/Media)

Jan 03, 2019

Blackfoot fights against Idaho Falls

(Story/Media)

Dec 05, 2018

Christmas music, when is the right time

(Story)

Oct 16, 2018

School Honors Seniors as they Play Last Home Game

(Story/Media)

Oct 09, 2018

Welcome to an Enchanted Evening

(Story/Media)

Oct 02, 2018

The Lady Broncos battle the Bees

(Story)

Sep 24, 2018

Russ's latest album release

(Story)

Sep 07, 2018

Blackfoot put up a fight against Bonneville

(Story/Media)

Feb 01, 2018

News reporter visits young journalists at local high school

(Story)