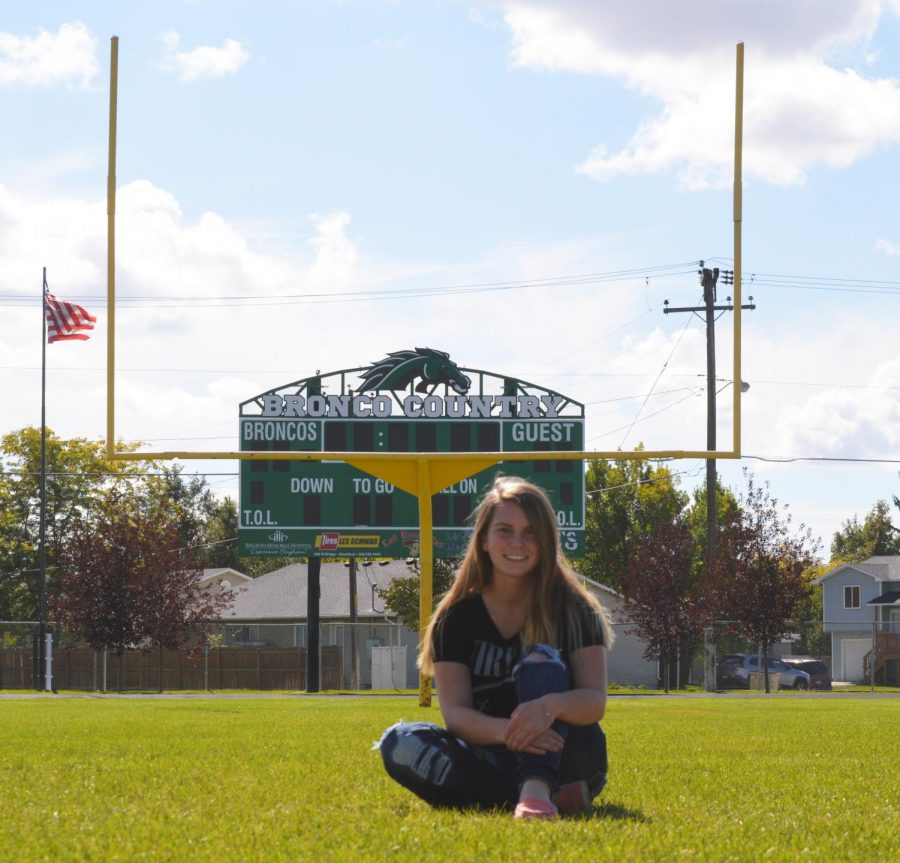 "I like my men how I like my tea. Hot and British," stated Natalee Beck as she was describing her celebrity crush, Tom Holland, which, let's be honest, isn't a bad quote to live by. 
The young, sophomore writer has been in newspaper since the last trimester of the 2018-2019 school year. She joined newspaper because she wanted to explore the journalism class and after seeing how much she liked it, she just knew she wanted to join the newspaper staff. But, obviously, it hasn't been all that easy. She says she struggles the most with headlines and captions, because she's "not creative at all lol". Besides that tiny setback, she loves writing stories, the teacher, her classmates, and you can't forget about taking pictures of... the sports. She loves going out and taking pictures of all the sports she can because she loves being able to capture things in the moment, but she loves taking pictures of football and baseball the most. 
Beck was born in Weiser, Idaho, but she spent part of her life in Germany. She loved Germany so much, that it sparked her love for travel. So when asked what she would do if she had a million dollars, she said she would buy a plane ticket, and spend a week in Ireland. She wants to experience a different culture, and she feels like it would be an amazing experience.
As much as Beck has her head on straight, everyone has their moments. One of her most embarrassing school memories is when she was walking up the stairs to the 500 hall, and she tripped over every step going up, while she knew who was behind her. But that's probably better than all the drama she's had to put up with in high school; she also hates having the stress of getting good grades. 
Although she's a sophomore, she already has a pretty good picture of what she's going to do after high school. Beck plans on taking a year off right after graduating. With the extra time off, she has a whole list of things she wants to do, including the following: go on trips with friends, go to Europe with her oldest brother, go on a humanitarian aid trip, and earn money for her LDS mission and college as well. She also plans on going to a foreign college so she can gain different experiences and be part of a new culture.
So, as you may be able to tell, Beck is a fun, outgoing, hardworking girl who is just trying to get through this high school thing while still having fun, and hey, who would blame her. (oh, hey, if she's ever angry, buy her Chick-Fil-A. Trust me, she'll LOVE you)
Natalee Beck, Sports Editor
Jan 28, 2020
Dec 18, 2019

Dwight Richins athletic director

(Story)

Dec 18, 2019

Blackfoot High Schools's blood drive

(Story)

Oct 22, 2019

Spider-Man back in the MCU

(Story)

May 10, 2019

Bingham boys rugby team battles Meridian

(Story)

May 07, 2019

Broncos compete well in track meet

(Story)

Apr 17, 2019

Broncos fend off Grizzlies

(Story)

Apr 16, 2019

Broncos send Bees buzzing away

(Story)

Apr 04, 2019

Newsies make headlines once again!

(Story)

Mar 28, 2019

First Bronco track meet

(Story)

Mar 14, 2019

Is it really romantic?

(Story)