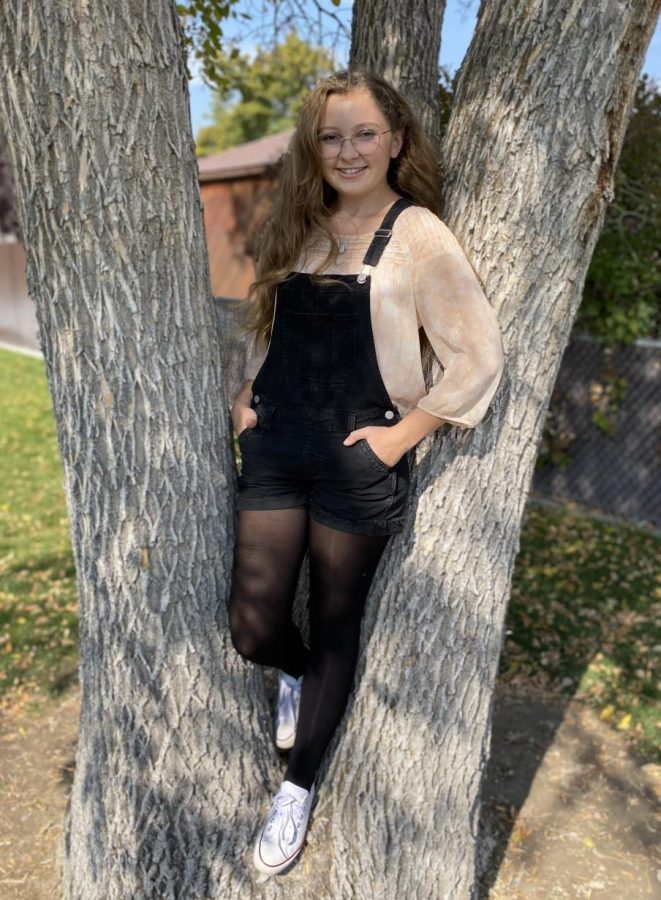 Kailynn Miller: "reserved but out there", enthusiastic, and ambitious.
"I would be one of those chairs with a missing peg on one of the legs so I could rock back and forth all day," was Miller's response when asked what kind of chair she would be. 
Kailynn Miller is currently attending Blackfoot High School as a Junior. Her favorite quote is "just wing it". Outside of school you can find Miller playing her cello, reading, playing card games, or playing video games. In school, Miller has grown to love the people in Newspaper, and others around the school. When asked what her favorite part about being in Newspaper, Miller replied, "The people. We're like all friends in here, and it's easy to talk to everyone." Now, Newspaper isn't her favorite "subject", but rather the spectacular science is! Coinciding with that, Miller's favorite teacher at BHS is Mr. Munger because he's "eccentric", but honorable mention to Gerardi for being amazing as well. 
Miller's plans regarding life after high school is rather ambitious. She wants to earn her Associate's while in high school, but wants to continue her education, and obtain her Bachelor's Degree.  She says she'll probably try for a higher education than a Bachelor's in the future.  After that, Miller want's to enlist in the Marines as an officer. When asked why, Miller said, "Because my dad was one, and being a Marine... it just gives you such a sense of honor and [accomplishment] to be like 'I did this. It was hard, and I did it.'" Miller's role model is her dad, as he served his country just as she wants to, "He's just done so many things in life that I wish I could do, and he makes me want to get out there [and] be myself." 
If you wanted to get Miller a treat, she says that Kit-Kats are her favorite candy.  She says that burgers are her favorite meal, and she would gladly go see any horror/action/adventure movie. If Miller was given a week to live, she would spend time with her close friends and family.
Kailynn Miller, Staff Reporter
Nov 16, 2020

Blackfoot High School Combined Fall Band and Drama Performance- Indiana Jones and the Pandemic

(Story)

Nov 05, 2020

Blackfoot High School Endures Multiple Schedules

(Story)

Oct 28, 2020
Oct 21, 2020
Feb 03, 2020

Craig Young Signing

(Story/Media)

Dec 18, 2019

Alessandra Brunati

(Story)

Dec 03, 2019
Apr 04, 2019

Singing YMCA with Hi-Y

(Story)

Mar 15, 2019

BHS vampires strike again!

(Story)