Troy Waters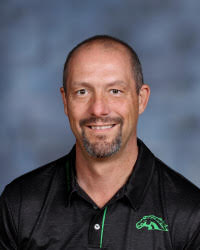 "You miss 100% of the shots you don't take" Troy Waters, a new teacher here at Blackfoot High School's (BHS) favorite quote. Troy Waters is one of the new teachers teaching this year at BHS, he teaches business and technology classes. You can see this quote take place in Waters' life as he explains the kinds of things he is involved in. Troy Waters is also a coach for the high school's football team, he says that he played almost all of the sports available to him when he was in high school; Baseball, basketball, and football. Waters said that he believes he started playing sports in either third or fourth grade but he was drawn to football when he played college football. Waters says that he coaches because "being involved in sports as a coach helps you in the classroom". He also says that he coaches because he can teach students life lessons through sports. Waters is also BHS's yearbook advisor this year.
Waters has been teaching for seventeen years and this is the third school in which he has taught. Waters says that he became a teacher because he enjoys working, especially with high school students. He also enjoys helping them learn the business world since "we will all work in business at some point". Waters' favorite aspect about teaching is being able to develop relationships with his students and watching them grow up and seeing where they go with their lives. Waters says that he has no complaints about BHS yet; he says that he loves the diversity that BHS has, and he also states that the staff and admin have been great to him. He says that he teaches business because he has an undergraduate degree in it and believes that business is an important thing for students to learn.
Waters has two children, one daughter named Bari who is twenty five years old and he has one son named Cooper who is twenty. He says that he doesn't currently have any pets due to not having enough time with both teaching classes and coaching football. Waters describes himself as "easy going, until [he is] pushed too far". Waters grew up here in Idaho, in Inkom, and he went to Pocatello High School.
In high school, Waters states that he was involved in his school's football and basketball team, as well as Spanish club and Keyclub. Waters' favorite high school memory is when his football team won back to state championships. Waters said that when he was growing up he thought his dream job was to be an engineer, but when he got to college and tried to go for it, he found that it wasn't really for him. One thing that Waters said he would tell his younger self if he could would be, "Enjoy high school and college, you have the rest of your life to be grown up".