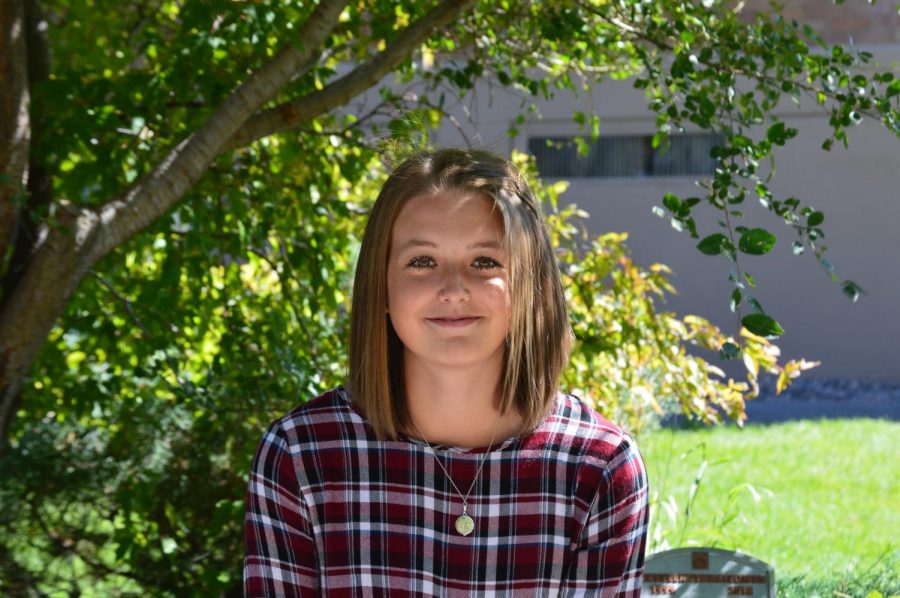 Kaitlyn Jensen is a senior, in her last year of newspaper for Blackfoot High school. Jensen has been in newspaper for four years.
Living in Blackfoot, Idaho Kaitlyn has passions for what she wants to do with her future. One of her biggest passions are humanitarian work. She is planning on going to BYI or Utah State for college.
For a career choice she is deciding between an elementary teacher or an occupational therapist. The reason why she chose those careers is because she likes working with people. Also to have an influence on them.
The subject Jensen enjoys most is English. She becomes very passionate into her writing. Her favorite quote is "You're stronger than you think you are, you can do more than you think you can." Kaitlyn is very athletic and is part of the schools cross country team and track team.
Kaitlyn's hobbies are running and reading. She has always had a love for running. Jensen's biggest supporter is her father. Kaitlyn's said "her father is her biggest supporter because he listens to her, and helps her improve and pushes her to do more."
The thing she is proud of is saving enough money to go to New York with the newspaper staff. And making varsity to the cross country team. Kaitlyn says the most thing she regrets is "not being more vocal or just being too shy."
Kaitlyn's favorite movie is the 2011 film
Soul Surfer
and her favorite song is
What about us
by the artist Pink. Also her favorite holiday is Christmas because she likes giving presents to people and getting to help people. Purple is her favorite color because to her purple means strength and is a quiet color.
Kaitlyn Jensen is truly a unique and  helpful person to everyone. Kaitlyn has a true passion in her writing which really helps out the newspaper team at Blackfoot High school. And has really helped out the newspaper staff to start the year off.
Kaitlyn Jensen, Editor-in-Chief
Apr 04, 2019

Lady Broncos swat Bonneville Bees with victory

(Story)

Feb 19, 2019

Blackfoot wrestling celebrates senior night

(Story/Media)

Feb 14, 2019

Blackfoot senior boys, cheerleaders celebrate senior night

(Story)

Jan 25, 2019

Student athlete Shakayla Morgan first to sign for Blackfoot

(Story)

Dec 20, 2018

BHS choirs and bands perform Christmas concert

(Story/Media)

Dec 20, 2018

Blackfoot softball team spreads Christmas cheer at Stoddard Elementary

(Story/Media)

Dec 13, 2018

Pentatonix releases new Christmas album

(Story)

Nov 28, 2018

Wreck-It Ralph 2 breaks the theaters

(Story)

Nov 13, 2018

Shakayla Morgan medals at state after only two years of running

(Story)

Nov 12, 2018

10 Questions with Keygan Wright

(Story)

Oct 10, 2018

Blackfoot faces Hillcrest for senior night

(Story)

Oct 08, 2018

Idaho Falls takes down Blackfoot at homecoming game

(Story/Media)

May 23, 2018

Students help out at 5th and 6th grade track meet

(Story)

May 23, 2018

Powers retiring after 30 years at Blackfoot High school

(Story)

Apr 18, 2018

Olivia Arave named Blackfoot's Distinguished Young Woman of 2019

(Story)

Apr 05, 2018

Distinguished Dudes perform for funding the DYW program

(Story/Media)

Mar 29, 2018

Students need to treat others with more respect to become unified

(Story)

Feb 13, 2018

Getting your crush to notice you

(Story)

Feb 06, 2018

Sexy not back: Timberlake halftime show creative failure

(Story)

Jan 29, 2018

Girls Basketball celebrates Senior Night 43-49

(Story/Media)

Jan 25, 2018

Blackfoot v. Idaho Falls Wrestling match

(Story)

Jan 16, 2018

The Greatest Showman steals the show

(Story)

Jan 02, 2018

Take care of yourself to avoid nasty winter colds

(Story)

Dec 19, 2017

Lady Broncos in action against Preston

(Story/Media)

Dec 04, 2017

Lady Broncos take the win 60-42

(Story/Media)

Nov 15, 2017

SAT Prep. class should be taken seriously

(Story)

Nov 14, 2017

Lindsey Stirling releases new album

(Story)

Nov 09, 2017

Show gratitude this Thanksgiving season

(Story)

Sep 28, 2017

Americans should respect flag, come together in unity

(Story)

Sep 25, 2017

Juniors take on Seniors at powder-puff game

(Story/Media)

Sep 13, 2017

Cross Country at Soda Springs

(Story/Media)

Sep 11, 2017

Blackfoot and Pocatello battle for win

(Story/Media)

Sep 04, 2017
Aug 26, 2017

Looking beyond for something greater

(Story)