Pentatonix releases new Christmas album
I absolutely LOVE Christmas so when I heard Pentatonix released a new Christmas album, I jumped right on my phone, plugged in my headphones and cranked up the volume. It was time for Christmas!
 Pentatonix is one of my all time favorite music groups. I love this group because every song they sing is acapella, no instruments included. The way they sing, the emotion they are able to portray brings their whole album to life.
 Even though I can't carry a tune, I belted out each song like it was nobody's business (believe me when I say no one probably wanted to hear it). I liked the album so much that I couldn't pick which was my favorite song. I decided to pick a selection of some of the ones that really inspired me.
 The first song is Grown Up Christmas List (Kelly Clarkson's version). This is one of my favorite Christmas songs. Their version of it sounds similar to the original, but it just blows me away that it's only their voices they are using. The song brought back memories of when my siblings and I would stay up during the night on Christmas Eve for Santa Claus.
 Some other songs I really enjoyed are Have Yourself a Merry Little Christmas, Rockin' Around the Christmas Tree, and Waltz of the Flowers. These songs brought back the magic I once felt when I was younger and still believing in Santa.
 Listening to Waltz of the Flowers brought back a funny memory I had when I was about eight years old. I used to spend a lot of weekends at my grandma's house and I remember she had a clock in the living room where I slept. Whenever the clock would chime, it would sound like the one from the Nutcracker. I was pretty sure one night that I was going to get kidnapped by a mouse king and be trapped in the winter wonderland.
 Along with the fast, upbeat songs, this album featured some slower songs as well. Mary Did You Know and O Holy Night were among my favorite. I loved how the group got into the songs, bringing out different emotions to affect the listener. Their voices blended beautifully to create a peaceful piece of art.
 Overall, this was my favorite Christmas album from Pentatonix. The way they take the music and make it their own is so beautiful. You can see how each song has meaning to them and the emotion they pack into it makes the listener feel something. If you know someone who has good taste in music, this is definitely the album for them. They'll be belting out Christmas music to bring in the new year! 🙂
About the Writer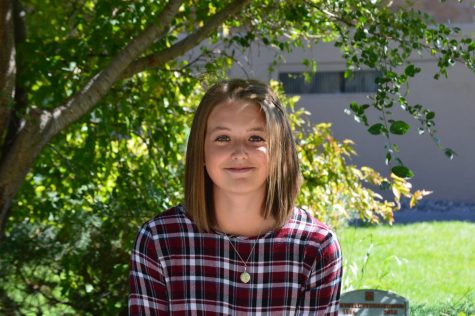 Kaitlyn Jensen, Editor-in-Chief
Kaitlyn Jensen is a senior, in her last year of newspaper for Blackfoot High school. Jensen has been in newspaper for four years.

Living in Blackfoot,...