The Greatest Showman steals the show
"No one ever made a difference by being like everyone else" -The Greatest Showman
Hang on for a minute...we're trying to find some more stories you might like.
The lights go down and everyone is in their seats glued to the screen. Trying to maintain my composure and stuffing candy in my face, I sit quietly waiting for the movie start. Music fills the air and the movie takes flight.
The Greatest Showman is the one of the best movies I have seen in quite a while. With Hugh Jackman, Zac Efron and Zendaya acting some of the main characters, makes the movie even better. Hugh Jackman plays the main character P.T Barnum, the man who started one of the first circus'. Zac Efron plays Phillip the apprentice of Barnum, and Zendaya plays Ann, the acrobat, whom falls in love with Phillip.  
The movie is a musical, and who doesn't like a musical? I LOVED it so much! The storyline is about P.T. Barnum, who was a poor boy who fell in love with a rich girl. He longs to be with her and make a better life for himself. The two come together later in the movie and make a new life for themselves. Barnum starts a circus; unique people join his show. Such as, the bearded lady who sings magnificently. The story goes on showing how Barnum seeks status and neglecting the people closest to him. In the end, it comes together, ending on a good note.
Hugh Jackman is one of my all-time favorite actors because of his voice. He is a great singer and brought this story of Barnum to life with his voice. My favorite songs he sings are A Million Dreams, Come Alive and From Now On.
Zac Efron and Zendaya sing a beautiful duet during the movie.The song they sing is called Rewrite the Stars. The song is about how they want to be with each, but Ann refuses too. She is a black woman and he's a white man. She sings how society won't accept them as a couple while Phillip sings how he doesn't care about what others think and they fly through the air in a breathtaking routine.
I learned a powerful lesson from the movie: No one is same and all of us have something to offer to the world. It made me realize that everyone is made different so we could be unique and help others find their talent in their lives. We should treat each with respect and learn about each others talents. We are all the same because we are all unique. I loved this about the movie.
If you love musicals as much as me, you'll want to see this! It features so many, unique songs and you'll fall in love with all the characters. If you don't like musicals, watch it anyway. Who knows, this may be the movie that changes you forever. After all, Barnum is the Greatest Showman. 
About the Writer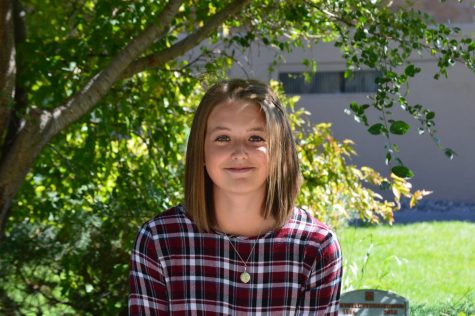 Kaitlyn Jensen, Editor-in-Chief
Kaitlyn Jensen is a senior, in her last year of newspaper for Blackfoot High school. Jensen has been in newspaper for four years.
Living in Blackfoot, Idaho Kaitlyn has passions for what she wants to do with her future. One of her biggest passions are humanitarian work. She is planning on going to BYI or Utah State for college.
For a career choice she is deciding between an elementary teacher or an occupational therapist. The reason why she chose those careers is because she likes working with people. Also to have an influence on them.
The subject Jensen enjoys most is English. She becomes very passionate into her writing. Her favorite quote is "You're stronger than you think you are, you can do more than you think you can." Kaitlyn is very athletic and is part of the schools cross country team and track team.
Kaitlyn's hobbies are running and reading. She has always had a love for running. Jensen's biggest supporter is her father. Kaitlyn's said "her father is her biggest supporter because he listens to her, and helps her improve and pushes her to do more."
The thing she is proud of is saving enough money to go to New York with the newspaper staff. And making varsity to the cross country team. Kaitlyn says the most thing she regrets is "not being more vocal or just being too shy."
Kaitlyn's favorite movie is the 2011 film Soul Surfer and her favorite song is What about us by the artist Pink. Also her favorite holiday is Christmas because she likes giving presents to people and getting to help people. Purple is her favorite color because to her purple means strength and is a quiet color.
Kaitlyn Jensen is truly a unique and  helpful person to everyone. Kaitlyn has a true passion in her writing which really helps out the newspaper team at Blackfoot High school. And has really helped out the newspaper staff to start the year off.