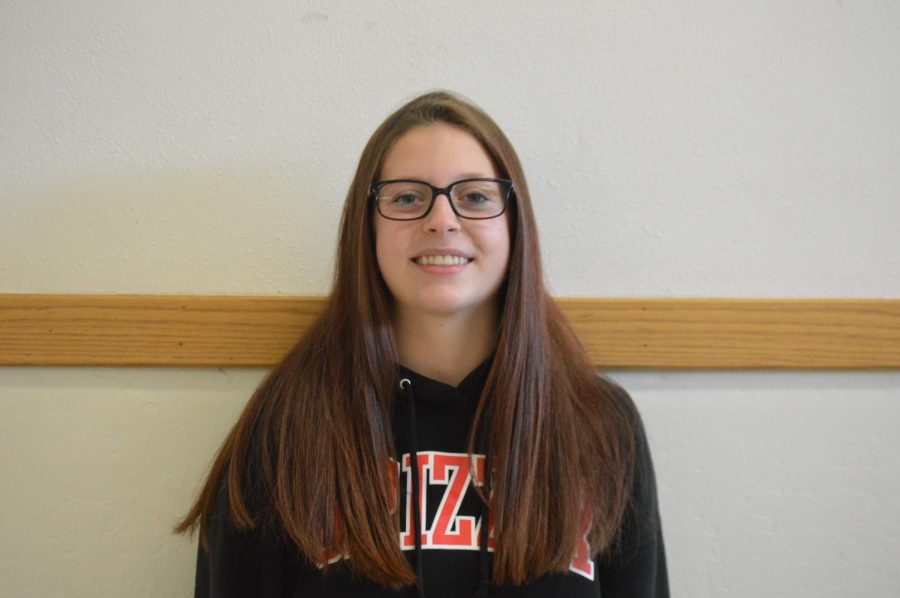 Erika Goodwin, a senior here at Blackfoot High School, joined newspaper because she likes taking pictures. Erika's favorite things to do in her free time are to watch TV and to hang out with her friends. Her favorite television shows are Friends and Grey's Anatomy. One of Erika's favorite quotes is from one of the characters from Friends, Monica Geller, when she says, "Welcome to the real world. It sucks. You're going to love it." Erika likes this quote because in six months she will be graduating and "going into the real world." When she graduates from Blackfoot high school she
would like to go to college and go into nursing, hopefully getting a good job.
Erika describes herself as easy-going and caring. Her favorite year of high school has been her senior year. This is mainly because she is going to be graduating. After high school the two colleges that she would most likely want to go to would be ISU and CWI. These colleges stand out to her because of how close they actually are to where she lives right now and they both have pretty good institutes.
Goodwin would like to major in nursing. The main reason why she wants to pursue a career in nursing is because her grandmother was a nurse. Her grandmother was a role model in her life and Erika likes to follow a path like she took.
Erika's favorite place she has visited was Mexico. She said that if she could choose anywhere to live she would choose Mexico. The reason Erika likes Mexico is because that was where her sister got married. Erika's favorite subject in school is math because she is good at it. Overall, Erika is an encouraging, caring person and an enjoyable friend to be around.
Erika Goodwin, Staff Reporter
May 21, 2019

Singing through life: a spotlight on Porter Williams

(Story)

Apr 17, 2019

Olivia Arave signs to play basketball with Snow College

(Story)

Apr 15, 2019

Debate goes to state

(Story)

Apr 04, 2019

Easter horoscopes

(Story)

Jan 14, 2019

A day in the life of Jason Dietz

(Story)