Victoria Berthelsen
Blackfoot's Danish exchange student, Victoria Berthelsen, likes to live her life challenging herself and trying new things. The junior high school student has been a great addition to our Bronco family; she's played on our school's girl's varsity soccer team as number 17 and in the junior vs. senior powderpuff game as a quarterback. Through the five months she's been living here in Blackfoot, Berthensel says, "I have tried so many new and exciting things that I will always remember. And they've been super fun, and I've grown so much and have learned a lot."
Victoria initially decided to come to America and become an exchange student since she was already familiar with the country, the language, and traveling in long intervals. Movies from when she was younger and seeing people's lives through social media pushed her curiosity to the point where she wanted to experience that for herself. The highlights of her exchange year have been the powderpuff game, the Homecoming dance, the Sadie Hawkins dance, and getting to travel with the soccer team. Berthelsen says, "Just getting to be an American student is fun."
Back in her home country, Denmark, Victoria is either in school, spending time with friends or family, or playing her favorite sport, table tennis. Back in Denmark, where the sport is more prevalent in Denmark than in America, she's won and become a Two Time Champion & Two Times Prong – Girls League winner in her district. Berthelsen says that these wins are some of her most significant accomplishments. She has dedicated seven years of her life, and this young lady can confirm that this sport will be a part of her life forever.
Denmark has many special and unique attributes to the country, many not well known to the general American. When questioned, "where in your country would you introduce to tourists?" Victoria was quick to respond with "Skagen." The so-called place is a town along the coast where two seas meet. Where the waters don't mix, and ancient castles still stand, where the dense historical architecture and rich history resonate through brightly colored cities, "Denmark is a country that you should visit in your lifetime." This Junior greatly appreciates both of her countries, but Denmark still takes the cake. No place like home, right?
Even with her peers, there are many things that not very many people know about her. For one, she enjoys watching Nascar and Formula1 races, or anything that has to do with speed. She also likes learning different languages; as of right now, she's fluent in Danish, English, and partly French, and she can also understand bits of other Nordic languages, such as Norwegian, Swedish, and a bit of Spanish and Latin.
Berthelsen's goals before she leaves Blackfoot are to 1. Visit as many places as she can; 2. Make more friends; 3. Play more sports, and 4. make as many fun memories as she possibly can before she leaves. "I'm sad it's gone by so fast, but there's still much to look forward to in the next five months." Victoria is a super sweet, humble, outgoing lady. So if you see her in the halls, don't be shy and say hi!
Leave a Comment
About the Contributor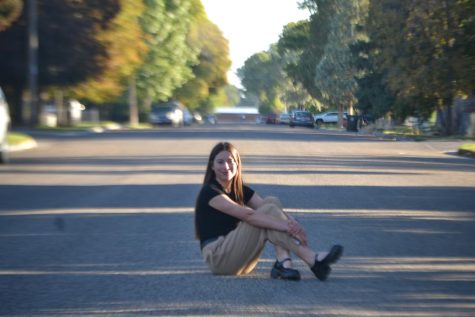 River Denny, Staff Reporter
River Denny, high school junior, started her journey during 2020. Along this journey she has learned to live by the famous words of Tupac who said, "I...