Autumn Crawford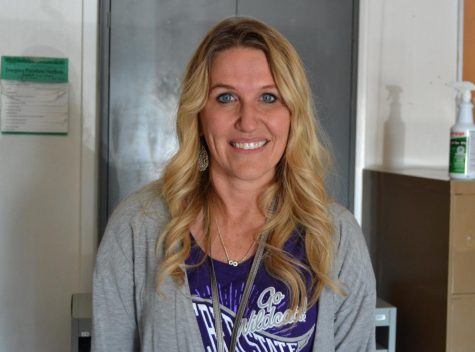 As you walk down the Junior hall, you might see a new face. Autumn Maddingly Crawford, Montana-born, ex-cheerleader, mom-of-one, and now the new special education teacher here at Blackfoot, has quite a story to tell. Beginning in Montana, at Charles M. Russell High School, Ms. Crawford enjoyed her time volunteering in special education classrooms and cheerleading.
According to her, the initiation for cheerleading was one of the craziest things she did in high school. Between being woken up at two in the morning, walking around with an "Ask Me to Cheer!" sign, and having to wear Depends to school, Crawford says that was the most embarrassing thing she did in school.
Only breaking her nose at a school dance came close to eclipsing that memory. In a failed attempt to perform a swing dancing trick, Crawford's face smashed into the floor, knocking her out and requiring an ambulance trip to the hospital, leaving her poor partner to tell the dad what happened. This legendary accident led to the creation of a t-shirt dedicated to her that said "Autumn Nose How to Dance," and the title of Best Nose at the end of the year.
Another big part of her high school career was working with special needs kids. She loved walking into the classroom and seeing the students' faces so happy to see her. Because of her work with the kids, she was able to receive a full-ride scholarship to Brigham Young University-Hawaii. This start to her higher education was "the best experience ever". Unfortunately, due to unseen circumstances, her time was cut short and she returned home for two years. Eventually, she returned to schooling in Montana. During her one year in Western Montana University, she became friends with Blackfoot's very own Mr. Blevin. In the end, Crawford graduated from Weber State University with degrees in special education for K-12 and elementary education for K-8. However, her learning didn't stop there, and she received her Masters in Curriculum Development in Art out of Boston, Massachusetts.
Even though Crawford has lived in California, Montana, and Hawaii, and has visited Canada, Australia, New Zealand, and Mexico, what brought her to teach at Blackfoot was a "needed change", and after a quick call to her high school friend, Joe Abercrombie, she was in line for a new chapter in Blackfoot. Crawford said what she loves about Blackfoot is, "people share the same core values and beliefs that I have".
We love having Ms. Crawford here because of her sweet spirit, so her answer when asked what her best quality is makes perfect sense: "my heart…I love unconditionally, [and] I don't give up on people. It doesn't matter the distance or time, I am forgiving…It doesn't matter what they did to me". She attributes her big heart to her parents, about whom she says "If I'm half the people they are, then I'm doing good." Crawford looks up to her mom, who "is the most charitable person I've met," and her dad who "had faith and never talked bad about anybody…[He] was never negative no matter what someone did." She says she was lucky to have "two amazing parents who gave me good qualities to look at." Family is important to Crawford, and she says she is a mom first and foremost because her nine-year-old son is her "whole wide world." Additionally, one of her inspirations for choosing special education was her brother, a "hero". Crawford was always the protective sister, and when she saw her brother cry after school more often than not, she vowed that she wanted to become a teacher where "students didn't want to go home crying after [her class]".
Not only does she love her family, Crawford also enjoys boxing, and she works with professional boxers as the Acting Boxing Commissioner in Montana. Some of her other loves are dancing, reading, and Tom Welling from Smallville.
Crawford says her biggest unfulfilled dream, however, is having more children. Unfortunately, the stars didn't align how she thought they would, and the picture she had of being a mother of more children didn't turn out. On the other hand, she says that "I was able to fulfill that in a different way" through her stepchildren and the kids she teaches. In the end, Crawford lives by the belief that "between now and the end result, I will be taken care of".