Fostering an Instant Family
 Heartwarming. Influential. Touching. Funny. The movie, Instant Family, starring Mark Wahlberg and Rose Byrne can very accurately be described with these words.
 The show starts out by highlighting a married couple, Ellie and Pete Wagner, who were casually going through life fixing up houses, caring for their dog, and just enjoying life together. It was a good, comfortable rut to be coasting through; however, they both knew something was missing in their lives. As they continued watching Fixer Upper and going to the movies, they continued to talk about what it was that they had to change in their lives. Then, the idea came-about to adopt a kid. At first, adoption was a flippant response to a joke, but as Ellie began researching the situation of kids in foster care and what they had been going through, her heart melted and she couldn't move on. Then, Pete saw the faces of these kids and he soon was on board to try it as well.
 The couple soon began a 12-week class to certify for foster care. The weeks then progressed, and they were able to meet-and-greet with foster kids. Even though there were many kids, they fell in love with fostering this 15-year old girl, Lizzie. And they later found out that she had two lovely little siblings: Juan and Lita. As they got to spend more time with the kids, they knew that they would be the kids to spend life with (though it would be hard).
 Pete and Ellie then went from a quiet family of two, to a rowdy family of five; but it was a change they were willing to make. Time continued to move forward and with this came an increased amount of responsibility and understanding; a change that the Wagners were struggling very much with. The kids were off the walls and disobeying them all the time while they still didn't know how to manage the kids. The foster care support group ended up being a huge blessing; Pete and Ellie knew that they truly loved the kids and wanted to fully adopt them.
 The show goes on to explore the complex relationships within the Wagner family (especially that of Ellie and Lizzie). Trials come up and the future looks bleak, but they push forward and the conclusion ends up bringing a happy tear to your eye.
 In my opinion, this was a fantastic movie filled with happy moments and all-around good morals. Walking out of the theater, I not only thought to myself "the Movie Mill is fantastic" but I also had a change of heart. I suddenly had this desire to research more about kids in foster care and ways to help them. Overall, this is a must see for literally any human with a heart.
About the Writer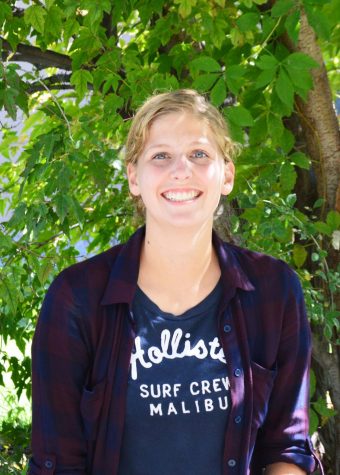 Breanna Beck, Features Editor
Breanna Beck is a senior entering her second year in newspaper. She joined because the editor and chief and her best friend Kaitlyn hyped it up for her....