Michael Buble releases poetic new album Love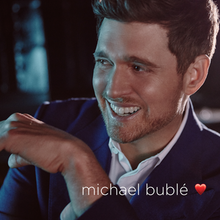 Inspired by the hard journey of his son's battle with cancer, Michael Buble released his new album <3 (pronounced "Love") on November 16th.
His last released album before Love was in 2016 titled Nobody But Me. However, this new album is already one of Buble's favorites because of the message to turn to optimism and love through hard trials.
  While it may seem like a significant amount of time between the two albums, Buble felt the need to take a step back from music to spend time with his family in the midst of Noah's(his oldest son) fight with cancer. In 2016, at the age of three, Noah was diagnosed with liver cancer and had to receive chemotherapy. Currently, Noah is on the uphill climb; thus, Buble has come back full force to his jazzy-swing music that so many people have come to know and love.
 Starting off with the lead single When I Fall in Love, Michael Buble beautifully shows off his magnificent talent with not only his incredible voice but also with intimate lyrics and breathtaking instrumentals. Using a timeless melody, Buble created a new rendition that is sure to make an imprint in the world of music.
 Another single displayed in this new album is Love You Anymore, an original song written by Charlie Puth. As soon as Buble saw the lyrics and was asked to record it, he instantly seized the opportunity. It adds a light tone even though it primarily is about 'getting-over-your-ex.'
 Further, the only Michael Buble original included in Love is Forever Now. It is a slow, melodious tune that pairs perfectly with Buble's serene voice as he lullabies a song of tender loving. Especially considering the circumstances with his little boy in the past two years, it makes it seem like a personal ballad of love to his children.
 One other song I thought added depth is My Funny Valentine. It almost includes a mysterious feel as the instrumentals are low jazz and Buble's voice is a deep vibration. Although it is a song already sung before, Michael Buble has a way of making any song more personable and dramatic.
 You can't go through Love without mentioning I Only Have Eyes for You. The lyrics are playful and Buble experiments with different rhythms and excellently shows off the intricacy of his talent. It really puts the title of the album into perspective as it explores the definition of devoted love.
 All in all, Michael Buble put together yet another marvelous album. He is somebody who can take a mix of different songs and reprise them in a way that seems so original and unique all while displaying his uncontested vocals. The inspiration behind Love adds even more respect to Buble as an artist and as a family man.