Track brings home multiple state titles
Hang on for a minute...we're trying to find some more stories you might like.
Many kids were heartbroken when Abby Hurst, a senior on the track team, became injured at districts. She was a favorite to win districts and state before she got hurt. Although Abby was not able to qualify for state, she was there to cheer on her teammates at state.   
The girl's 4×4 relay team placed third at state with a time of 4:05.77 which broke the school record.  Emily Peterson (12), Kristin Thomas( 10), Brena Johnson (12), and Tenleigh Smith (9) were the members of the 4×4 and Brena raced for Abby. The team ran with their lucky purple baton which they wrote "for Abby" on. The girls ran hard while Abby cheered harder for them.
"I was super pumped and excited for our 4×4 team! I wished that I could have been there running with them but, they made me feel like a part of the team the whole time!." Abby Hurst (12) said.
"It was hard to run without her. She was our leader." Tenleigh Smith (9) said.  
Many teammates and even kids from other schools wore ribbons to show support for Abby.
"I felt so blessed and loved by my teammates. They are so kind and everyone was telling me they were running for me. They are my best friends." Hurst (12) said.
Abby was able to go up to the podium with her teammates as they received their third place medals.   
The boy's medley team placed first at state with a time of 3:34. Derek Thomas (12), Sean Clark (12), Brandon Brower (12), and Bracken Morse (11) were the members of the medley.   
Derek Thomas also won the 800 meters with a time of 1:58.29.  While he ran, Derek wore the jersey that his dad, our principal, wore in high school. This is the third year in a row that he has won state in the 800. Although he was excited to be a state champion he was happier that his medley team won.
"I was more excited when my medley team won, I ran over to my team and sean tackled me down." Thomas said.  
Cade Ricks (12) won state in pole vaulting. He cleared the massive 14 feet to become state champion.
About the Contributors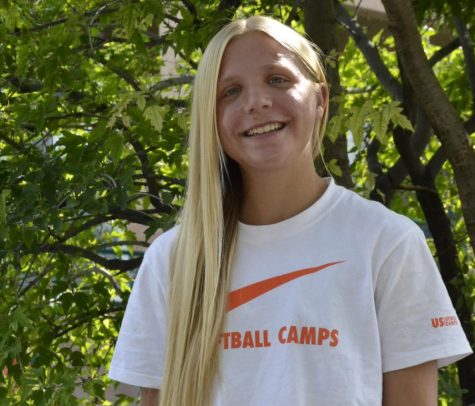 Ahna Yancey, Sports Editor
Ahna Yancey, sports editor is not only in newspaper but has participated in other clubs such as cross country, softball, and band.
Ahna has seven cats, two kittens, and a dog. Her favorite place to eat is Olive Garden.
" It's delicious and has free breadsticks."
Her favorite shows are House MD and Riverdale.
"Crazy drama, its funny . House MD  has medical stuff I like." Ahna's zodiac sign is Aquarius but she said"I don't believe in astrology."
Getting to know Ahna is really fun. She said "I'm crazy, I have a lot of energy I like to win a lot." Her favorite season is summer "I hate being cold and there's no school." Her plans after high school is "get a hot husband that is smart, athletic, nice, and taller than me."
The skill she would like to master is stick shift, "I wish I knew how to drive stick shift."
Ahna's favorite quote is "Hard work beats talent when talent doesn't work hard". "I like to work hard and it gives you motivation."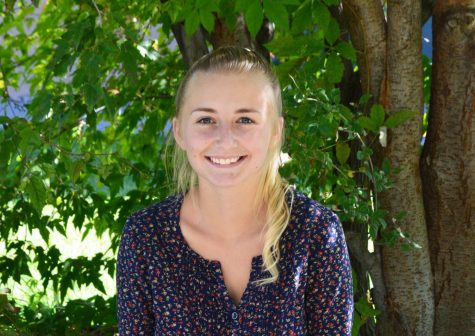 Kayla Overmeyer, Co-Editor-in-Chief
Have you ever thought that The Rock is "…just cute…" for no reason? Yeah, so has Kayla Overmeyer. Moving on to her senior year, Kayla, comes into newspaper with a year of experience. She joined newspaper last year because she loves taking pictures, and thought it would be something cool to be a part of.
When she's not in school and has time to herself, she loves taking pictures, sleeping, running, and watching movies. Her favorite movie is Napoleon Dynamite because she thinks it's super funny.
Her favorite food is anything beef; she absolutely loves steak. She says the weirdest food she's ever eaten would have to be fried octopus.
Since she's a senior this year, she's got a lot of upcoming events. For one, she's graduating soon. After high school, she plans on attending USU to study to become a nurse. Secondly, she has an even more adventurous event coming up: skydiving. She plans on joining her dad on this adventure, as he's done something very similar before.
When asked where she wants to travel to, she said she would want to go to Europe. She thinks there's just so many things to see, but she really wants to see major cities, like Paris.
Kayla is just someone that you would definitely want to be friends with. She's just has an amazing, friendly attitude (just don't send her streaks on Snapchat, she hates it).