Several Track Athletes Qualify for State
Hang on for a minute...we're trying to find some more stories you might like.
 Blackfoot fought to take 14 spots in the upcoming state competition, With successful relays and the hard work of individual athletes.
 The district meet was held on May 10 and 11 at Highland High School, in Pocatello, Idaho.
  Tenleigh Smith (9) blazed her way through districts, claiming three spots at state, with fourth, third, and second place titles, in the 400 meter, 200 meter, and 4×400 meter relay.
   "I was so proud of myself to qualify in three events. It felt so refreshing that all my hard work paid off. Working hard, staying dedicated and being focused has definitely helped me get where I am," Smith said.
  The Lady Broncos continued to represent Blackfoot with two more spots for state claimed by Kaitlyn Neff (10) in the 100 meter hurdles and high jump, giving the Broncos another fourth and third place district title.
  The girls efforts don't stop there. Kristen Thomas (10) sweeped the distance, for a second place district title in the 800 meter. Not only that, Thomas along with Smith, Brenna Johnson (12), and Emily Peterson (12), were able to take another second place title at districts in the girls 4×400 meter relay.
  "It was really exciting. My relationship with my team is really good. Especially with my 4×4 team, we get along really well and have a lot of funny times," Thomas said.
  Keirsten Wright (11) and Eboni Beasley (9) stretched to new heights qualifying for state in their first year of girl's pole vault. Wright claimed third and Beasley claimed fourth.
    "It was nerve racking to pole vault at districts because I'm ranked second in our conference, so I felt that I had to qualify for state. I was nervous once it got down to the last five vaulters, because only four go to state. I felt like I would be the one that wouldn't get to go, so I pushed that thought aside and did my best to make sure I could qualify," Wright said.
  On the boys' side, Bracken Morse (11) and Derek Thomas were able to pull first place district titles for the boys. Morse sprinted for the win to claim the top 400 meter spot. Thomas pulled through for the distance boys, claiming the 800 meter win.
   The first place wins for the boys continued with pole vault. Cade Ricks (12) has had a promising season, with recently breaking the school vault record of 14-06 at Tiger Grizz. He took another win for the Broncos.
 "I've done it before, but this year as a district champ it feels that much better. I've done lots of outside workouts away from the track as well as camps once or twice a year with Stacy Dragila the 2000 summer Olympics gold medalist," Ricks said.
   The boys hard work didn't end there. They pushed for another first place title in the medley relay. Including, Sean Clarke (11), Brandon Brower (12), Morse, and Thomas, with Payton Woodland (11) as a alternate, who filled in for Clarke.
   Clarke pushed hard to place fourth in the 100 meter dash and claim his spot at state.
 Throughout the meet multiple athletes were able to finish off the season strong with new personal records.
 The state meet will be held on May 18 and 19 at Dona Larsen park in Boise, Idaho.
About the Writer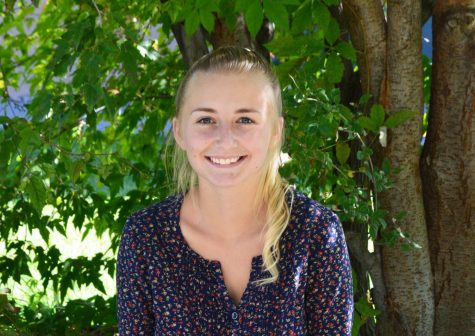 Kayla Overmeyer, Co-Editor-in-Chief
Have you ever thought that The Rock is "…just cute…" for no reason? Yeah, so has Kayla Overmeyer. Moving on to her senior year, Kayla, comes into newspaper with a year of experience. She joined newspaper last year because she loves taking pictures, and thought it would be something cool to be a part of.
When she's not in school and has time to herself, she loves taking pictures, sleeping, running, and watching movies. Her favorite movie is Napoleon Dynamite because she thinks it's super funny.
Her favorite food is anything beef; she absolutely loves steak. She says the weirdest food she's ever eaten would have to be fried octopus.
Since she's a senior this year, she's got a lot of upcoming events. For one, she's graduating soon. After high school, she plans on attending USU to study to become a nurse. Secondly, she has an even more adventurous event coming up: skydiving. She plans on joining her dad on this adventure, as he's done something very similar before.
When asked where she wants to travel to, she said she would want to go to Europe. She thinks there's just so many things to see, but she really wants to see major cities, like Paris.
Kayla is just someone that you would definitely want to be friends with. She's just has an amazing, friendly attitude (just don't send her streaks on Snapchat, she hates it).