Automotive Prepares To Compete at Weber State Competition
Hang on for a minute...we're trying to find some more stories you might like.
 This year Aric Vail (12) earned the highest score on the written test for the Weber State Competition, putting Blackfoot High School in first overall for the test. He will be competing at the hands-on competition with the written test score runner up, Josh Sharp (12). Tyler Scott (12) is the alternate for the competition.
 "It feels amazing to finally be able to compete there. My whole high school career in autos has lead me to the competition and being good enough to go is an amazing compliment for me," Vail said.
   "Automotive is super great. I've learned a lot about fixing cars and learning how things work," Scott said.
The Blackfoot Automotive program has had lots of success in the competition in recent years as well as this year.
 In 2017 Blackfoot High School Automotive took second in the written test.They took the written test for this year last month and took first place out of the 60 schools between here and Texas. They will now compete at the hands-on competition on February 15.
  In 2016 and 2017 the automotive program was ranked among the top twenty automotive programs in the country. It was the only high school in the western United States that was recognized. Most students that do well at these competitions receive both scholarship and career opportunities.
 "Right now we're finished with most of our classroom learning and now we're working on customers cars and learning to apply all of the skills we acquired since Auto I," Brandon Shumway said. (12)
 Students in the Automotive program are very active and successful in competitions around the area.
 "They're doing a really good job this year," Aaron Ball, automotive instructor said.
  "I've really enjoyed it thoroughly. It's given me a lot of skills not specifically in automotive, but also life skills. You go in as a sophomore boy and come out as a man," Harrison Inskeep (12) said.
 The Weber State Competition is a more prestigious automotive competition in the United States.
 The contest started in 1987. It was coordinated for 17 years by Rondo Erickson.
 For a school to compete in the competition they have to be nominated and qualified to enter by getting a passing score on the written test. The written test consists of 50 multiple choice questions.
 Once they have met all of the qualifications and passed the written exam, they can continue on to the hands on part of the competition.
 The top twelve schools will be invited to the hands on competition. The hands on part of the competition takes approximately three hours. It features twelve different work stations that allow you to demonstrate and compare your skills to others. There is an award banquet afterwards.
 The senior with the highest and second highest test scores from every school attend the hands on competition. Each school also brings the third highest scoring senior as an alternate. During the competition the alternate can observe, but in no way participate.
About the Writer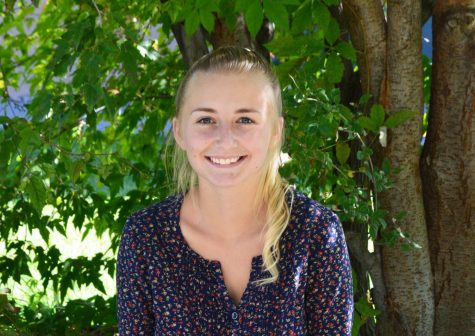 Kayla Overmeyer, Co-Editor-in-Chief
Have you ever thought that The Rock is "…just cute…" for no reason? Yeah, so has Kayla Overmeyer. Moving on to her senior year, Kayla, comes into newspaper with a year of experience. She joined newspaper last year because she loves taking pictures, and thought it would be something cool to be a part of.
When she's not in school and has time to herself, she loves taking pictures, sleeping, running, and watching movies. Her favorite movie is Napoleon Dynamite because she thinks it's super funny.
Her favorite food is anything beef; she absolutely loves steak. She says the weirdest food she's ever eaten would have to be fried octopus.
Since she's a senior this year, she's got a lot of upcoming events. For one, she's graduating soon. After high school, she plans on attending USU to study to become a nurse. Secondly, she has an even more adventurous event coming up: skydiving. She plans on joining her dad on this adventure, as he's done something very similar before.
When asked where she wants to travel to, she said she would want to go to Europe. She thinks there's just so many things to see, but she really wants to see major cities, like Paris.
Kayla is just someone that you would definitely want to be friends with. She's just has an amazing, friendly attitude (just don't send her streaks on Snapchat, she hates it).