Terren Hunt
Terren Hunt, the man of many words, also famously known for saying, "Anything between two slices of bread is a sandwich, right? So, that, like, gives you infinite options as long as you put it between bread?" He said he could eat sandwiches for the rest of his life if the question ever arose because, "I cheated the system and now I can eat anything".
Fun fact: Hunt is a vegetarian! He loves potatoes, like a true Idahoan and Thai Curry. His favorite color is (maybe) orange; his favorite animal is the trustworthy dog; and his favorite subject outside of math would either be physics or a social science, at the moment. Outside of school, he loves to go rock climbing whenever he can. 
Before coming to this wonderful school, Hunt was actually in school himself, almost in a similar situation to the rest of us. He went to ISU to attain that degree, where he met Dr. Kriloff who helped him get better grades. "I just barely graduated in May". 
"I like a lot of things – like mainly I like the students. I mean, that's really broad and vague, but that's gotta be it; I enjoy working with the students. I mean, this is a totally new experience; this is my first year teaching, so it's just been fun trying to get used to it, it's also been really hard – I guess that's a like and dislike is that it's new". 
It's been strange for Hunt to be back in high school, because of his young looks. He's concerned people might mistake him for a student, instead of the teacher. I mean, he is a college graduate, so it's understandable why he looks so young. Especially on dress-down days where he can just wear jeans and t-shirts. 
He's felt welcomed, so that's good! "Yeah! I've felt pretty welcomed here. All the teachers have been super helpful and all the math departments have been offering me advice on how to run my class. They'll provide materials from time-to-time. Mori Dunlap, especially, has been super nice to talk to about things. And then, the students have been pretty welcoming too". He was worried that some of his classes might be malicious, and, of course, you can't get through high school without at least one loud class per trimester, but he doesn't mind too much. 
"So, I like math, but largely, I like helping people with math. I didn't love just sitting down to do math because it's hard. I hope most people realize that it's hard for everyone". He started off with tutoring in college and he enjoyed watching as it got easier for the person, and it was at that point that Hunt realized he really liked teaching people. 
Originally, he was going to go into engineering, but the classes got more dull as he went on. He remembered his time tutoring and decided to switch into teaching. Before working at BHS, Hunt had applied to many different high schools, before Blackfoot snatched him up. He claims Blackfoot had a good environment and his interview was super friendly. 
He wants everyone to know that math didn't come easy to him, and that's okay. You don't have to be naturally good at things all the time and can still try to learn. If someone enjoys math, then they'll think about it more often, which could lead to trying to understand it more. You just have to work hard to get to where you want. 
About the Writer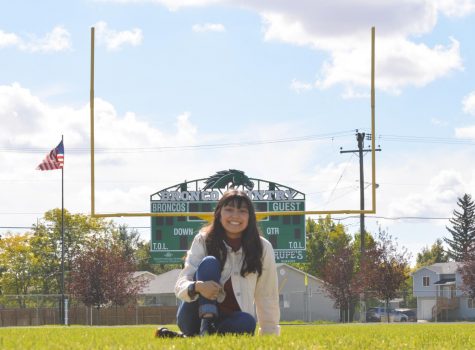 Vianca Godinez, Online Editor
 Vianca Godinez is a junior in her first year of newspaper at Blackfoot High School. She is the online news editor. She joined newspaper because she has...