Black Lightning lights up the show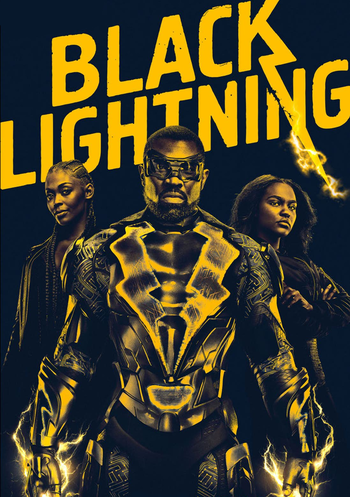 Hang on for a minute...we're trying to find some more stories you might like.
Unlike most superhero shows of this day and age, Black Lightning is not concerned with being a 'superhero' show but a show of struggling minorities dealing with everyday problems, while also having superpowers. The show premiered on the CW, home to other shows like The Flash and Supernatural, and was brought to life by Salim Akil and executive producer Greg Berlanti.
The beginning of the pilot episode set the tone for the rest of the episode. We see the main character Jefferson Pierce, portrayed brilliantly by Cress Williams, getting pulled over for being suspected of robbery, mainly due to the fact that he was black. The tension in this scene is high, especially when you see all the rage built up in his eyes, personified by his electrical powers. Seeing white men still trying to exert control over minorities, mainly the black community, in 2018 is disheartening.
Speaking of characters, Black Lightning is full of well-fleshed out characters, fitting for a show like this. Jefferson Pierce has already been shown to be a far more interesting protagonist than Barry Allen or Oliver Queen. Instead of this show being an origin story, it is more of a hero rising once again story. Along with Pierce are his two daughters Jennifer and Anissa. Jennifer, portrayed by China Anne McClain of Disney fame, is the younger and less experienced daughter of Jefferson. Anissa, on the other hand, is older and wiser than her sister. She has been going to med school and helping out at Jefferson's school. The only other main characters are the main villain group, the 100. This gang is run by Tobias Whale, an albino man and also series antagonist.
The plot for the pilot episode is one of the simplest yet effective plot devices out there. The episode is dedicated to Jefferson's daughters getting taken and having him become the superhero he once was. The only thing I may look down on this episode was the action, but even that wasn't a true downside. While the action was very simplistic, it felt well-earned to watch Jefferson, or Black Lightning, take out years of pent-up frustration and anger onto the 100 gang.
One of the greatest things I can say about Black Lightning is that it is not afraid to tackle social issues. Ranging from police brutality to metal detectors, Black Lightning takes the stance of fighting for the good of the people, mainly the colored. That is why this shows works; not because it is a superhero show but because it is an issue-driven show… with superpowers.