Psych: the Movie review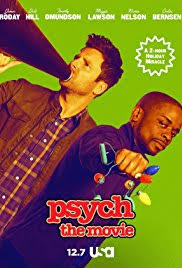 Hang on for a minute...we're trying to find some more stories you might like.
Three years after the original show ended, Psych: the Movie attempts to not only be a love-letter to the fans, but to also create an engaging enough plot to justify more sequels in the future. This movie mostly succeeds in this attempt, but in others it is seriously lacking.
While the plot picks up after the original story ended three years ago, it tries to tie up all the loose ends left after the series finale. This helps it to not be a basic retread of the past, but to expand upon the storyline left from Psych's wake.
The basic premise of the story is that of a murder investigation that uncovers a mysterious organization that is attempting to hurt one of his own. While the plot may not be that original, Psych: the Movie is such an enjoyable experience that you hardly ever notice.
Usually when it comes to remakes, the characters end up feeling a bit different from what they used to be. However, this movie overcomes this problem as the characters feel like they had never even left their roles. It would be amiss to not mention the incredible performances done by the Psych duo (played by James Roday and Dulé Hill).
Even though there is "the movie" in its title, Psych: the Movie feels like an extended, 2-hour long Psych adventure. The visuals from director Steve Franks help to distinguish the movie from the tv-show, but in other scenes it felt like they just re-used some old sets. In scenes where they switch from the Psych office to the mental hospital, it can be visually jarring at times.
The heart of the movie comes not from the movie, but the dedicated fanbase that has surrounded Psych since its conception. The multiple callbacks do not feel out of place, but serve as an award for someone who has watched the show since 2006.
Psych: the Movie may not be winning any Oscars, but it is an enjoyable detour from all the bleakness that has surrounded 2017. Overall, I would have to give the movie 4.5 pineapples/5.