Mrs. Bynum awarded for brilliant teaching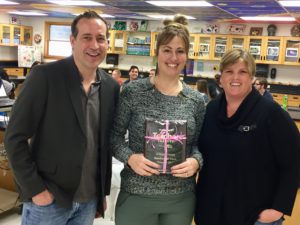 Hang on for a minute...we're trying to find some more stories you might like.
 Teaching can be hectic, so it is always reassuring to hear that there are reasons to continue the passion. This story will do just that, being a great story for the holidays. Alicia Bynum, a past alum of BHS as well as being one of BHS's science teachers, has recently won KLCE's Teacher Feature Award, an award usually given out to those deemed to be outstanding. The person who receives this award is nominated by teachers and students.
 The winning of this award not only surprised Bynum, but it caused her to feel something else. Bynum was now filled with a sense of newfound duty.
 "Yeah, it has made me want to actually do better," Bynum said. "It makes you want to do better because if somebody thinks like that then you want to do your best."
 Although the award came with many perks, like getting to have a dinner and mini vacation with the husband, it did not come without any doubts.
 "Just naturally as a human you always think: 'Really? You sure you are thinking it was me?'' Bynum said. "You know as a human sometimes you think 'are you sure?''
 One person who was sure was Jaden Devey (11) who nominated Bynum for the award.
 On the KLCE website, Devey wrote, "She is such a great person in all of mine and my peers lives. I can have the worst day and she just always understands and always gives the best advice. She's helped me learn so much."
Another person at the school who also received this award was Jared Neff, another biology teacher at BHS. Neff received this award over a year ago.