Pink releases new album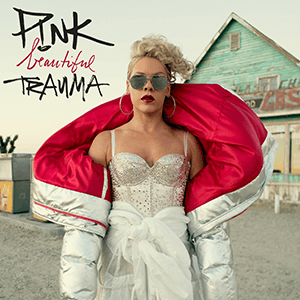 Listening to Pink's new album, "Beautiful Trauma," gave me whiplash. Listening to half of the songs on the album made me think "oh heck yes" and the other half made me think "oh heck no". The only song on the album that doesn't follow that rule is Whatever You Want, and in its case, the verses were possibly the worst part of the entire album and the chorus was literally music to my ears. Talk about yanking my emotions back and forth approximately every 3:46 minutes.
Perhaps the reason that the album was so hit-or-miss for me is because most of the songs on the album can be split into two categories: slow jams and not slow jams. I loved the slow jams and could easily live without the other songs.
Songs like Barbies, But We Lost It, What About Us, and other slow jams on the album are songs I'll be keeping on my playlists even after this review is written. One of my favorite things about music is the power it has to move emotions, and Pink does just that in these songs. I am obsessed with her slow jams.
I have a special appreciation for the song Barbies. I knew it was going to be my favorite song on the album from the very first time I heard it, and I wasn't wrong. It talks about growing up and how fast things change as you get older. As a senior who has to do things like fill out college and scholarship applications and start worrying about things like rent in less than a year, it's a song that I can relate to. Also, it's just a really pretty song.
However, I did not love the other songs on the album. Not all of the songs I don't love are necessarily bad; they just weren't my style. While some of the songs I didn't like were very repetitive, others just didn't have any depth or were just plain boring. Songs like Revenge and Secrets made me wish that I had more skips on Spotify because I never wanted to listen to the end even once.
So should you buy the album? No, because it's cheaper on iTunes to buy the good songs separately than to buy the whole album, but you should definitely at least give the good songs a listen.