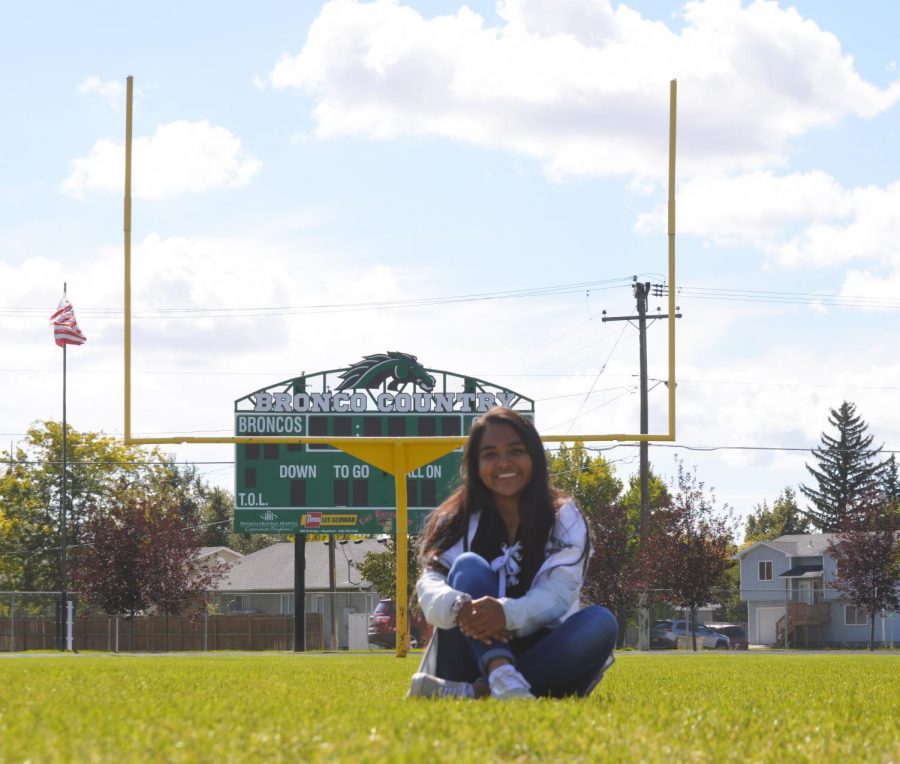 Clumsy, ambitious, and smart, Zayra Muñoz is protecting the Blackfoot High School's Girls' Varsity team by playing defense and right back while also juggling newspaper and yearbook during school. Outside of school, you'll catch her playing soccer, listening to music, and playing with her little brother, the youngest of the four Muñoz kids. The family also has an adorable Pomeranian named Maya.
"I like eating a bunch of food," was Muñoz's response as to why Christmas was her favorite holiday. She also said she enjoyed spending time with her family and listening to Christmas music. While Christmas is her favorite holiday, she said her favorite season was fall. "I like all the colors – the warm colors, and I like wearing sweaters all the time."
If Muñoz could go anywhere in the world she would go to Rome, Italy. "It sounds cool," was her reason. While on the subject of places to visit, Muñoz said she would never visit the Island of the Dolls located in Mexico, near the capital of the country, Mexico City. She said it is interesting to hear about, but she wouldn't have the courage to visit the haunted island.
Muñoz's plans after high school are vague enough that she has wiggle room to improve or add more detail as her life progresses, but lined out enough so you know the general idea. She wants to graduate high school with her associates' degree; go to college, although at this moment she's unsure what she wants to study; at the end of it all, she wants to start a family. When she claimed she was ambitious, she certainly wasn't lying. Her plans are simple, but the journey to get there won't be easy.
If she were turned into an animal, she said she would turn into an owl. "I don't know why. It just came to my head." Owls, according to Muñoz, are peaceful creatures that spend their time flying through trees, weaving between branches, ducking and soaring like the majestic birds they are.
"I look up to my dad because he's really hard-working." She also mentioned her mother, "they taught us how to be respectful; taught us all our values. They're really supportive. They would rather us succeed than just – I don't know – be left alone. Everything we are today is because of them." The 'we' mentioned being her and her siblings, of course.
Speaking of her mom, she said she would like to meet her mother's best friend from high school because she'd wondered about their relationship and who stood by her mother's side during a time as uncomfortable as high school. She also said she'd like to meet her mother's best friend AT the high school, since it's only fitting that the environment they knew her mother in would be best suited.
"I like all the classes; I actually do like how big it (BHS) is, because I like to meet new people and see new faces in the halls. I also hate how big it is because it's too crowded." Muñoz spoke about the things she liked and disliked about Blackfoot High School. Say hi to Muñoz whenever you see her in the hall, since that's the thing she likes the most about Blackfoot: greeting and seeing the unfamiliar faces!
If a magical genie could grant her three wishes, Muñoz would wish for: completing her associates' degree in high school, a good job that "I like, that is also close to home, so I can be with my family", and self-confidence.
Zayra Muñoz, Staff Reporter
Jan 08, 2020

Blackfoot's girls' varsity basketball team competes against Bonneville

(Story)

Dec 17, 2019

Blackfoot varsity wrestlers dual against Idaho Falls

(Story)

Dec 06, 2019