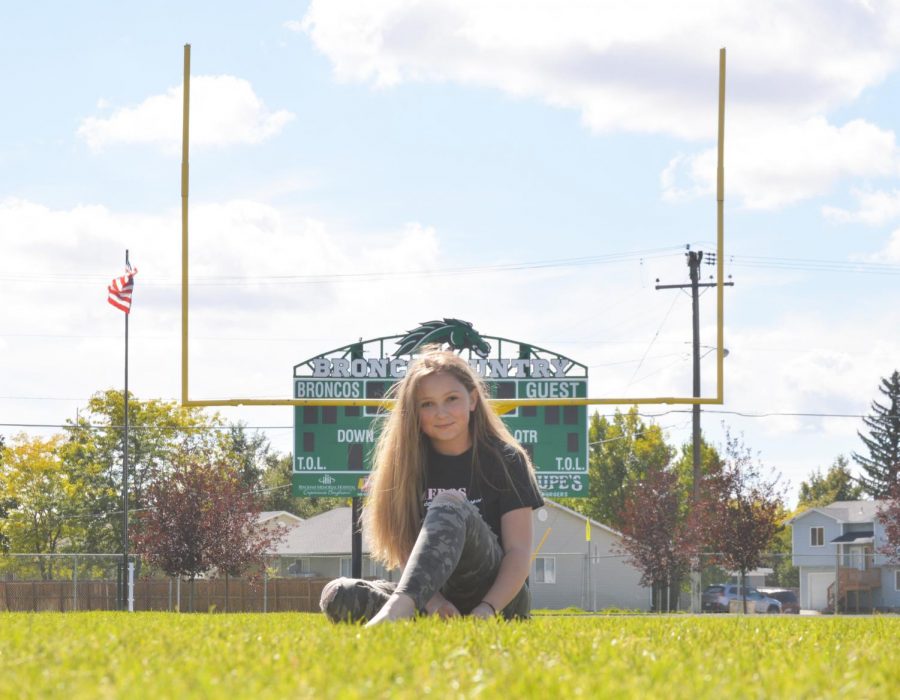 Kailynn Miller is a sophomore coming into newspaper with one year of experience. She joined newspaper because she enjoys writing and her favorite part about it are the people. Something she has learned coming into high school is that "there are a lot more people in Blackfoot" than she thought.
Miller's name comes from Okinawa, which is where her dad heard it while in the marines.
If Miller had to describe herself, she would say she is "weird, clumsy, and socially awkward."
Despite all that, she plans on following in her father's footsteps by joining the marines after high school. Miller would also like to go to college and pursue a career in law enforcement or psychology.
In her free time, Miller said she loves to "play the cello," and has for the past 5 years. Another one of her talents is kayaking. She enjoys it because it is one of her favorite ways to push herself.
Miller also loves to ride dirt bikes and be around her many pets. "I have 3 dogs. Two huskies named Kita and Gypsy, one lab named Sammy, and one cat named Annie." When asked what her favorite thing about them is, she said, "They're dorks."
Miller is the oldest child in her family, and she enjoys it because she loves having authority and being protective over her younger siblings.
If she could make any difference in the world, she would want to "make the military more respected and stop animal cruelty."
Her favorite class in school is Chemistry and she also loves Orchestra.
Miller is unique, kind, and definitely someone you would want to be friends with.
Kailynn Miller, Staff Reporter
Nov 16, 2020

Blackfoot High School Combined Fall Band and Drama Performance- Indiana Jones and the Pandemic

(Story)

Nov 05, 2020

Blackfoot High School Endures Multiple Schedules

(Story)

Oct 28, 2020
Oct 21, 2020
Feb 03, 2020

Craig Young Signing

(Story/Media)

Dec 18, 2019

Alessandra Brunati

(Story)

Dec 03, 2019
Apr 04, 2019

Singing YMCA with Hi-Y

(Story)

Mar 15, 2019

BHS vampires strike again!

(Story)