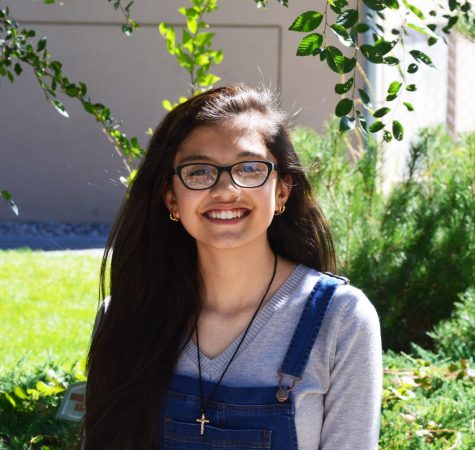 "Don't tell me the sky's the limit because there are footprints on the moon." Ziraily Pelayo lives by this quote everyday. She firmly believes that you can go anywhere you want in the world if you have the courage to try.
Pelayo is one of the new journalists for our school paper this year. She wanted to take newspaper because she loves writing and taking pictures. Not only is she taking newspaper, she is also taking yearbook. She loves to expand her talents to explore new paths.
Something unique about Pelayo is she is really patient with people. She is always willing to help those in need around her. Another unique part about her is her name. Her parents wanted all their girls to have names that start with z. They decided on the name Ziraily. The only thing they changed from it was a Y at the end instead of the letter I.
"I've never met anyone with my name yet," Pelayo said.
  If she could go anywhere in the world, she would go to Paris. She has always been fascinated with the Eiffel tower and food.
"I love bread," Pelayo said. "That's something I would try there."
  Her favorite dessert would have to be dirt. Not like actual dirt found in the ground. This recipe calls for oreos, whip cream and chocolate pudding. Her cousin makes it for her, which makes it even more special.
  Her favorite childhood memory would have to be the time she stole something from Walmart when she was little. She really wanted Kool-Aid, so she asked her mom if she could have it. Her mom told her yes and she put it in her pocket. When they were all checked out, Pelayo said she had exclaimed excitedly "Mom, the Kool-Aid!" She later got into trouble for stealing the Kool-Aid.
  Pelayo is a very promising journalist and is going to make this year great. The newspaper staff is excited to see her progress and her new outlook for our school newspaper.
Ziraily Pelayo, Online Editor
Feb 07, 2019

Blackfoot High School recognizes senior girls

(Story)

Feb 01, 2019

Bronco boys put up a hard fight against Bees

(Story)

Jan 09, 2019

Blackfoot High School charity auction

(Story/Media)

Jan 03, 2019

Blackfoot fights against Idaho Falls

(Story/Media)

Dec 05, 2018

Christmas music, when is the right time

(Story)

Oct 16, 2018

School Honors Seniors as they Play Last Home Game

(Story/Media)

Oct 09, 2018

Welcome to an Enchanted Evening

(Story/Media)

Oct 02, 2018

The Lady Broncos battle the Bees

(Story)

Sep 24, 2018

Russ's latest album release

(Story)

Sep 07, 2018

Blackfoot put up a fight against Bonneville

(Story/Media)

Feb 01, 2018

News reporter visits young journalists at local high school

(Story)