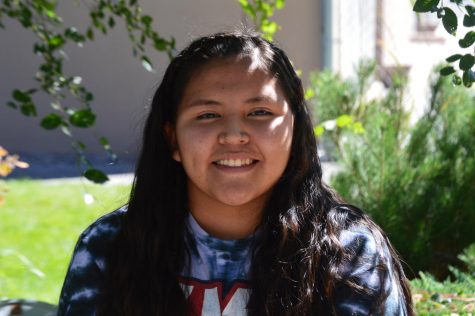 Rose Evening, currently a Junior at Blackfoot High school, is an excellent staff reporter at Blackfoot High newspaper club. She is also an amazing contributor to the Native American Club
Evening is a proud owner of two dogs, two cats, and one fish. If she were to have the opportunity to own any kind of animal, she would own a tiger, because "they are very strong animals. They seem very protective over their babies"
Her preferred place to go out to eat is McDonald's; she loves the chicken nuggets that are made there. As in food in general, her favorite is spaghetti, and moose tracks for dessert.
Her Favorite movie genre, is horror movies. She loves to be in suspense. A horror movie she really wants to go see is the new 2018 film,
The Nun.
Her favorite color is dark green. After high school, Evening is planning to go to college, "Not sure where, somewhere in Montana." She would love to have a good job.
Her future plans include a visit to England one day, but for now, her favorite place she has visited is California. "I loved riding all the rides, and just being there, it was really fun"
If she were to have to choose between hiking mountains or swimming at the beach, she would most definitely hike the mountains.
"Don't let anyone ever make you feel like you don't deserve what you want"-Writer unknown. Quotes are very motivating for Evening. One of her most recent quotes she has read and really believed in is. Evening's favorite holiday is fall. "I like it because its cooler and how the leaves change color."
Rose Evening, Staff Reporter
Jan 14, 2019

Student of the month: October

(Story)

Dec 19, 2018

Blackfoot High School duet couple wins at competition

(Story)

Dec 05, 2018

Girls basketball wins against Jerome 56-44

(Story)

Nov 30, 2018

Christmas movies to watch this holiday season

(Story)

Nov 13, 2018

Finding the meaning of Thanksgiving

(Story)

Oct 16, 2018

One Thousand Tickets

(Story)