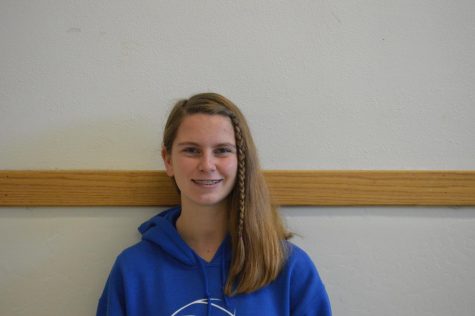 Natalee Beck is going places. With her future plans to be a journalist or news reporter, she is sure to make her mark. She is a freshmen here at Blackfoot and she loves learning all about history and government.
In her free time, you'll find her listening to 80's music or playing soccer and volleyball. The most interesting place she has ever traveled is Okinawa, Japan. Natalee's father is in the military, so she has lived and traveled to many places such as Texas, Alaska, and Germany. Natalee has five siblings and is the middle child. Her favorite part about being in the middle is that she doesn't get too much attention, so she can get away with a lot, but her least favorite part is when her younger siblings get her in trouble.
Her main life goal right now is to serve an LDS mission .She wants to attend BYU-Idaho or BYU-Hawaii. One thing people may not know about Natalee is that she has an obsession with Llamas and Alpacas. Although she doesn't have a most embarrassing moment, she admits that she is terrified of Dracula and spiders. She is a lover of french dip sandwiches, the color blue, and her favorite song, "Bye Bye Bye" by NSYNC. Her favorite book is Percy Jackson, her favorite movie is
Spider-Man Homecoming
, and her favorite TV show is
Gilmore Girls.
One of Natalee's many talents is that she is a great writer. She isn't picky when it comes to writing.
"Give me anything to work on and I'll get it done,"she says.
When asked what is most important to her besides friends and family, she said music and gum. "Gum is life," she said. "You will never see me not chewing gum."
Natalee's most prized possession is a throw pillow her brother made for her the Christmas before he left on his mission. Natalee is very outgoing and can make friends easily. (Just don't chew with your mouth open when you're talking to her.) She hopes to change the world by just being a friend to everyone she meets.
Natalee Beck, Staff Reporter
May 10, 2019

Bingham boys rugby team battles Meridian

(Story)

May 07, 2019

Broncos compete well in track meet

(Story)

Apr 17, 2019

Broncos fend off Grizzlies

(Story)

Apr 16, 2019

Broncos send Bees buzzing away

(Story)

Apr 04, 2019

Newsies make headlines once again!

(Story)

Mar 28, 2019

First Bronco track meet

(Story)

Mar 14, 2019

Is it really romantic?

(Story)