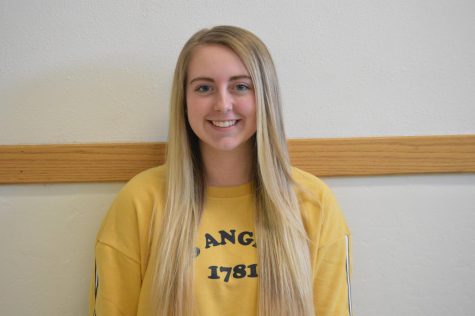 Mykah Plesner is a sophomore here at Blackfoot High School. She's working on going into her first year of the newspaper.
"I really like to do graphing design on the computers, and also writing," she says. Plesner thinks it's going to be a fun elective.
 She wants to be a Graphic Artist when she is done with high school. "I've enjoyed art since I was little." She plans on going to Utah State for college.
 Besides newspaper, Plesner is also in Competition Drama for BHS.
"I got the class my freshman year and I've really enjoyed it since," she says, "It's a good experience going into drama with my friends."
Her favorite subject here at BHS is English because she's always enjoyed writing.
 One thing she's always wanted to do is skydiving. "I've always liked the rush of adrenaline,'' Plesner said, "And I think it would be fun." Besides wanting to skydive, in her freetime, she loves to draw and paint. "I don't really have anything specific I like to draw."
She wants to travel to NYC and Hawaii, because she loves big cities and pretty places. Plesner also said she really wants to drink out of a coconut.
 Plesner likes watching the Goldbergs, because it's a funny show. One of her favorite characters on this show is Beverly Goldberg, because she's always embarrassing her family. Mykah wants to have a family when she is older, "I've always really wanted twins."
Her favorite food would have to be twice baked potatoes. Besides eating that, she loves to go out and eat at Texas Roadhouse or Carls Jr. She is a very picky eater. Plesner also said she doesn't like desserts.
 "I'm not into sweets", says Plesner.
 " A healthy mind does not speak ill of others" - writer unknown. "I feel like if you have a positive mind, you won't diss on others" says Plesner.
Mykah Plesner, Staff Reporter
Mar 06, 2020
Apr 04, 2019

Easter horoscopes

(Story)

Feb 26, 2019

The effects of social media in our lives

(Story)