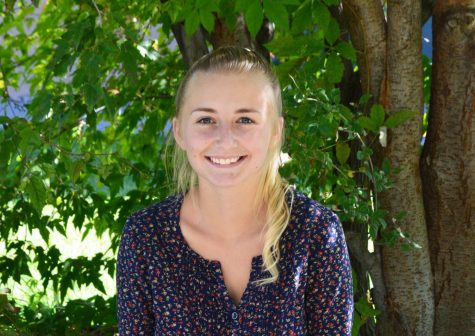 Have you ever thought that The Rock is "...just cute…" for no reason? Yeah, so has Kayla Overmeyer. Moving on to her senior year, Kayla, comes into newspaper with a year of experience. She joined newspaper last year because she loves taking pictures, and thought it would be something cool to be a part of.
When she's not in school and has time to herself, she loves taking pictures, sleeping, running, and watching movies. Her favorite movie is Napoleon Dynamite because she thinks it's super funny.
Her favorite food is anything beef; she absolutely loves steak. She says the weirdest food she's ever eaten would have to be fried octopus.
Since she's a senior this year, she's got a lot of upcoming events. For one, she's graduating soon. After high school, she plans on attending USU to study to become a nurse. Secondly, she has an even more adventurous event coming up: skydiving. She plans on joining her dad on this adventure, as he's done something very similar before.
When asked where she wants to travel to, she said she would want to go to Europe. She thinks there's just so many things to see, but she really wants to see major cities, like Paris.
Kayla is just someone that you would definitely want to be friends with. She's just has an amazing, friendly attitude (just don't send her streaks on Snapchat, she hates it).
Kayla Overmeyer, Co-Editor-in-Chief
Mar 01, 2019

Escape Room Thriller lives up to the buzz

(Story)

Jan 08, 2019

BHS Annual Christmas Auction raises $3,000 over goal

(Story)

Jan 08, 2019

New Spider-Man charges "Miles" ahead of other animated films

(Story)

Jan 01, 2019

Kelsey Bender Receives Sanford Award

(Story)

Dec 19, 2018

FCCLA Bakes and Delivers Christmas Cookies in the Community

(Story)

Dec 04, 2018

Wrestling competes at first home meet of the season

(Story)

Nov 28, 2018

Wood family light show brings Christmas joy to Blackfoot

(Story)

Oct 12, 2018

Senior Powder Puff Becomes Back to Back Champs

(Story)

Oct 09, 2018

BHS annual homecoming assembly

(Story)

Oct 08, 2018

Senior Powder Puff, Back to Back Champs

(Story)

Sep 20, 2018

Cross Country competes at Freeman Park

(Story)

Sep 18, 2018

Varisty Football Takes the "W" at First Home Game

(Story)

May 25, 2018

Track brings home multiple state titles

(Media)

May 16, 2018

Several Track Athletes Qualify for State

(Story)

Apr 06, 2018

Gun Control Requests Have Become Overbearing

(Story)

Apr 05, 2018

Daegan Simpson Wins Distinguished Dudes

(Story)

Mar 30, 2018

Broncos Varsity Track Has Second Home Meet Of The Season

(Story)

Mar 30, 2018

BPA Competes At State Competition

(Story)

Mar 29, 2018

How Far Is Too Far When Talking About Sex Education

(Story)

Feb 08, 2018

Automotive Prepares To Compete at Weber State Competition

(Story)

Jan 09, 2018

Alcoholism in Teens

(Story)

Jan 09, 2018

New Year's Resolutions

(Story)

Dec 05, 2017
Nov 14, 2017

Stressed for Success

(Story)

Nov 01, 2017
Oct 31, 2017

Cross Country State

(Story)

Oct 24, 2017

Cross Country Districts

(Story)

Oct 24, 2017

Cross Country Statebound

(Story)