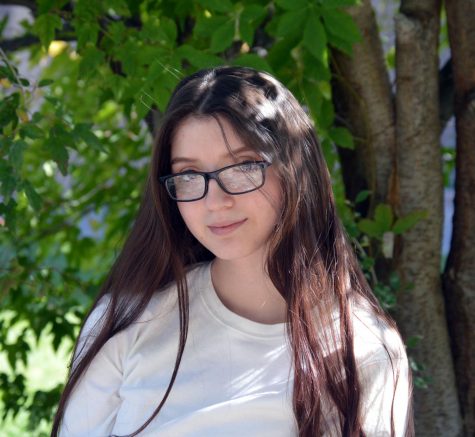 Bella Sanchez is a rookie reporter with a bubbly personality and a go-getter attitude. She aspires to go to college at Westminster University in Salt lake City. Her favorite subjects are science and math. She wants to study forensic science because she has always liked learning about crimes and how you solve them.
In her free time she likes to hang out with friends. They often go out to eat and try crazy new foods, she even tried frog legs at the fair! Her favorite food is Flautas, Crisp tortillas filled with stripped chicken and other toppings such as guacamole.  Bella thinks that Tom Holland is super hot especially since he is British.
She decided to do newspaper so that she could make her voice as well as other students voices heard. She is also excited to make close friendships. Overall, she is a great addition to the newspaper staff because she will put in a lot of effort to make sure everyone's voice is heard.
Bella Sanchez, Staff Reporter
Feb 03, 2020

Trump's Impeachment Simplified

(Story)

Jan 08, 2020

Secret Santa for Eastern Idaho

(Story)

Apr 10, 2019

Coach Smith nominated as Coach of the Year

(Story)

Mar 29, 2019

Getting ready for the SAT

(Story)

Mar 15, 2019

Blackfoot Movie Mill finally finished!

(Story)

Feb 27, 2019

Sweethearts 2019: Under the City Lights

(Story)

Jan 14, 2019

Student of the month: October

(Story)

Jan 10, 2019

Girl Basketball team beat out Thunder Ridge by a landslide

(Story/Media)

Dec 04, 2018

The Grinch: 2018 movie review

(Story)

Dec 04, 2018

Mars InSight Landing

(Story)

Oct 17, 2018
Oct 02, 2018

Blackfoot celebrates Native American culture

(Story/Media)

Sep 07, 2018

Blackfoot put up a fight against Bonneville

(Story)