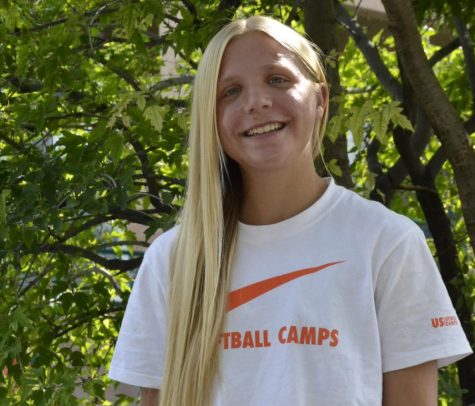 Ahna Yancey, sports editor is not only in newspaper but has participated in other clubs such as cross country, softball, and band.
Ahna has seven cats, two kittens, and a dog. Her favorite place to eat is Olive Garden.
" It's delicious and has free breadsticks."
Her favorite shows are House MD and Riverdale.
"Crazy drama, its funny . House MD  has medical stuff I like." Ahna's zodiac sign is Aquarius but she said"I don't believe in astrology."
Getting to know Ahna is really fun. She said "I'm crazy, I have a lot of energy I like to win a lot." Her favorite season is summer "I hate being cold and there's no school." Her plans after high school is "get a hot husband that is smart, athletic, nice, and taller than me."
The skill she would like to master is stick shift, "I wish I knew how to drive stick shift."
Ahna's favorite quote is "
Hard work beats talent when talent doesn't work hard
". "I like to work hard and it gives you motivation."
Ahna Yancey, Sports Editor
Jan 08, 2019

Lady Broncos trample Trojans

(Story)

Jan 02, 2019

The ULTIMATE experience

(Story)

Dec 11, 2018

Blackfoot boys crush Highland

(Story)

Dec 04, 2018

Crimes of Grindelwald, mediocre

(Story)

Nov 13, 2018

Movie Mill doesn't disappoint

(Story)

Sep 13, 2018

XC at Soda Springs

(Story/Media)

Sep 13, 2018

BHS kicks of year with fun assembly

(Story/Media)

May 28, 2018

Solo gives a new hope for Star Wars movies

(Story)

May 25, 2018

Track brings home multiple state titles

(Story)

May 23, 2018

Blackfoot should have Fridays off

(Story)

May 17, 2018

Softball battles at districts

(Story)

Apr 19, 2018

Violent video games: not a cause for concern

(Story)

Mar 14, 2018

Safety concerns bring changes to Blackfoot

(Story)

Nov 14, 2017

Winter predictions say cold and wet

(Story)

Nov 11, 2017

Stranger Things Season Two is worth the watch

(Story)

Nov 11, 2017

Trunk or treat big success

(Story)

Nov 01, 2017
Oct 05, 2017

Homecoming assembly

(Story)

Sep 26, 2017

Students lectured on sexting

(Story)

Sep 13, 2017

Cross Country at Soda Springs

(Story/Media)