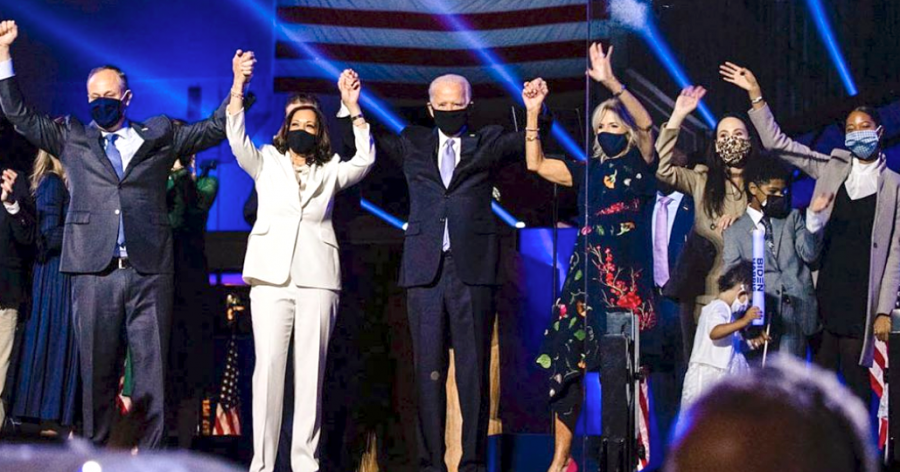 With a record voter turnout of 156.8 million citizens casting their ballot in the 2020 presidential election, it is undoubtedly an election to go down in the history books. The 2020 election faced various unprecedented challenges like covid-19, protests, and concerns about voting through mail. Some voters opted to stay home and mail-in their ballot, others decided to attend early voting, and a large number voted on election night. The high amount of mail-in ballots contributed to a long and stressful night for millions of Americans, since some states had not started counting them until election day. Most would think President Trump and former Vice President Biden would be the stars of election night, but mail-in ballots and swing states stole the spotlight from them and had viewers at home sitting on the edge of their seats. 
Tuesday, November 3rd: Election Night 
Tuesday had millions of voters pouring into polling stations ready and willing to let their voices be heard. Most people were looking for updates on the election throughout the day, but it wasn't until the first polling stations on the east coast closed that people started to admittedly look for the first few results of the night. States like New York were a guarantee for Biden and South Carolina was a safe bet for Trump, but it was the swing states that were giving everyone anxiety. Florida was trending blue at the beginning of the night and Biden supporters were happy; however as the night went on the state flipped and Trump voters rejoiced for the victory. Slowly but surely other polling stations closed and more results were coming in. Viewers watched as Biden held onto Texas, but once again the state flipped and went back to it's traditional red. Arizona shocked the country by staying blue the entire night and never alternating like Texas and Florida. Most viewers went to bed with Biden leading in the Electoral College and Trump leading in key swing states like Michigan, Wisconsin, and Pennsylvania. Trump even capped the night by announcing his premature and unconfirmed victory on Twitter. 
Wednesday, November 4th: Mail-In Ballots Are Counted
Biden supporters went to sleep scared, but woke up to good news when the mail-in ballots were counted in key swing states. Wisconsin and Michigan flipped from a strong red lead for Trump to a blue lead for Biden, and Nevada and Arizona trended blue the entire night. Later on Wisconsin and Michigan were confirmed blue which raised Biden's electorate count to 264. Trump won states like Iowa and Ohio and got 214 electorate points. The news set its eyes on states like Nevada, North Carolina, Pennsylvania, and Georgia who all started to count their mail-in ballots. The amount of uncounted mail-in ballots raised concerns for states like Georgia and Pennsylvania because of the potential of them flipping for Biden; absentee ballots tend to be used more by Democrats. The day went on with few updates coming from the states that were still counting votes and the attention was now being given to the Trump campaign's decision to file lawsuits in certain states. 
Thursday, November 5th: Lawsuits, Protests, and Nevada 
The Trump campaign was ready to put up a fight and filed lawsuits in Georgia, Pennsylvania, Michigan, and Nevada. Trump's lawsuit that called for the halt of  counting absentee ballots was dismissed by a judge in Michigan, and another judge in Georgia dismissed a lawsuit that questioned if late ballots were being included in the count. In Pennsylvania another suit regarding poll observers was filed and a judge ruled that poll observers must be allowed to see the counting process. Nevada sent out absentee ballots to all of it's registered voters, so Republicans filed a suit that alleged the possibility of voter fraud. Trump supporters rallied together in Michigan and protested in front of polling stations that were still counting. Videos were released of protesters chanting  "Stop the count!" Mr. Trump  seemed to have inspired the protests because he had tweeted  "STOP THE COUNT!" earlier that morning. Citizens around the country patiently waited for Nevada to count all its ballots, but very little information was given out. The amount of ballots in Las Vegas and Reno seemed to be the reason why it was taking so long to count and was what kept Biden from getting his last six electoral votes he needed to win. As the day went on, the gaps in Georgia and Pennsylvania got slimmer and slimmer. 
Friday, November 6th: Pennsylvania and Georgia
The fourth day of the election wasn't looking good for the Trump Campaign. President Trump's lead in Pennsylvania and Georgia was dwindling as the two states counted absentee ballots throughout the night, and the possibility of the states turning blue got higher. In the early morning both Pennsylvania and Georgia flipped which relieved some of the pressure that was placed on Nevada, the state that had the necessary six electoral votes for Biden to win. In order for Trump to win his reelection he would need both Pennsylvania and Georgia to turn red along with Nevada and Michigan; however the likelihood of that happening was slim since the remaining votes to count were in traditionally blue counties. The day went on with no significant updates, and the Trump Campaign continued to pursue recounts in battleground states. 
Saturday, November 7th: Joe Biden and Kamala Harris Win
After four long and stressful days, Pennsylvania finished their count and gave Biden 20 electoral votes. This raised Biden's electorate count from 264 to 284 and made him pass the minimum requirement of 270 votes to win. The Associated Press called the election and projected Joe Biden to be the President-Elect and Kamala Harris to be the Vice President-Elect. Millions of Americans were ecstatic and held celebrations all around the country. This was Biden's third presidential run and his second time in the White House. As for Kamala Harris, she ran up against Biden for the Democratic nomination this year and this will be her first time in the White House. Both Biden and Harris made history with this election; Biden was the first candidate to surpass 70 million votes and Harris is the first woman and the first Black and Asian person to hold the position of Vice President. 
Transition of Power
While President-Elect Biden doesn't get to hold office until January 20th, there are already so many questions revolving around the transition of power. Trump has yet to concede and most likely won't until the entire election is finalized. For now, Joe Biden is the projected winner and there isn't any evidence to suggest that this will change, but there is always the potential of something happening while recounts are going on around the country. In a series of Tweets, the President speculated that voter fraud occurred around the country and that his campaign will do everything they can to protect the integrity of this election. Trump insists that he won and in a statement that can be found on the White House website he says "If you count the legal votes, I easily win. If you count the illegal votes, they can try to steal the election from us. If you count the votes that came in late — we're looking at them very strongly. But a lot of votes came in late." Don't expect to have a traditional transition of power, there will most likely be some sort of conflict especially since Trump has yet to concede.