Lindsey Stirling releases new album
Hang on for a minute...we're trying to find some more stories you might like.
Listening to Lindsey Stirling's new album, "Warmer in the Winter," took me down memory lane. I remembered decorating the Christmas tree, baking cookies, and wrapping presents all the while listening to Christmas music. Joy filled my heart listening to these songs and brought me back to my eight year old self.
Stirling's album features many of the Christmas songs we know, but with a twist of her own. She also has three new original tracks that she added. The songs are Christmas C'mon, Warmer in the Winter and Time to Fall in Love. Also featured in the album are Becky G, Trombone Shorty, Alex Gaskarth of All Time Low, and Sabrina Carpenter helping create the magic in these songs.
I have always admired Stirling; she is role model for many people. I admire her work and dedication she puts into each of her albums.
My favorite song from the track is Warmer in the Winter. The song tells a story about staying inside, in warm fuzzy socks, drinking hot chocolate and being with that special person. I love the lyrics and background music. The music is a little jazzy, and I like the atmosphere it brings when it's played.
Another song I enjoyed was You're a Mean One, Mister Grinch. This song was sung by Sabrina Carpenter. She has an amazing voice and combined with Lindsey Stirling, made it spectacular. I love the combination of the two together. It really brought the music to life during the songs with the guest musicians.
My all time favorite Christmas song is Carol of the Bells. Every night on Christmas Eve, I listen to the radio play Christmas songs while I sleep. This song always seems to play just before I fall asleep and I LOVE it. I was ecstatic when I saw that this was on the album. The song is beautifully played, and has a twist on it which I absolutely love.
The album is beautifully done, I love all the songs on it. Some other good songs, which have a slower pace include: Angels We have Heard on High, What Child is This, and Silent night. These songs also have many memories attached to them. I remember going caroling and singing these songs because of the message they bring.
This album is now my favorite Christmas album. It's definitely worth it to buy. If you know someone who loves songs like these, it would make a great present this year! Make sure to check it out and see how beautifully these songs are portrayed. It will bring back all those childhood memories of believing in Santa Claus and magic. No one could have done it better than Lindsey Stirling.
About the Writer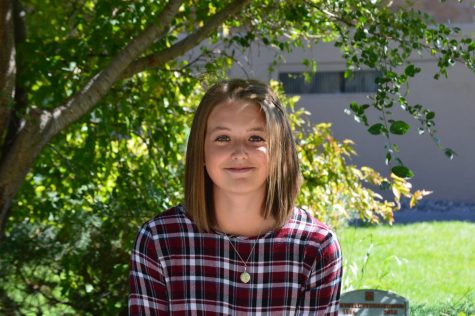 Kaitlyn Jensen, Editor-in-Chief
Kaitlyn Jensen is a senior, in her last year of newspaper for Blackfoot High school. Jensen has been in newspaper for four years.

Living in Blackfoot,...